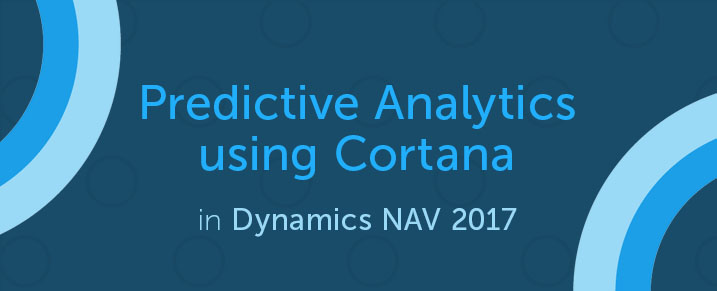 Reporting and Analytics are the most important elements in any ERP system. It doesn't matter whether the ERP is for SME or Large Enterprise. Microsoft is investing heavily in Business Intelligence and Analytics for their NAV ERP and this is clearly proven when Microsoft announced Predictive Analytics using Cortana in NAV 2017. In NAVUG 2016 Microsoft announced below key announcements regarding NAV:
• Microsoft Dynamics NAV 2017 GA
• The updated Dynamics NAV roadmap. (Dynamics NAV product updates and new capabilities will continue to be delivered.)
• Dynamics 365 for Financials (Business edition)
What's New in NAV 2017?

• Improved business productivity using enhanced Dynamics NAV Integration with Office 365.
• Optimize business processes using predictive analytics powered by Cortana Intelligence.
• Gain powerful business insights and charting with Power BI.
Predictive Analytics Powered by Cortana

The approach of adding Cortana for Predictive Analytics in NAV 2017 show us the combination of cloud-enabled analytics along with machine learning to deliver 360 Degree View of an organization's business flow. Obviously this will give Microsoft a competitive edge on NAV in the SME market over its rivals like SAP (SAP Business One), Sage 300, Netsuite etc.
"This latest version of our business management solution for small and midsize businesses is designed to help organizations create greater efficiencies, streamline business processes and empower employees to react quickly to changing business needs with intelligent insights anywhere and on any device," – Paul White, general manager at Microsoft Business Solutions, wrote in an Oct. 28 announcement.
Cortana Intelligence comprises a suite of applications such as Advanced Analytics, Artificial Intelligence (AI) and Big Data Processing solutions from Microsoft. Using Cortana SMB's can predict the important period in their business flow, predict their cash flow and plan accordingly. Customers like Schneider and Rolls Royce are already using Cortana Intelligence to get detailed insights and boost their business flow efficiency.
Dynamics NAV already added the capabilities of Power BI using which NAV 2017 reports and dashboards can be easily created by end users. Together with Cortana Intelligence along with Power BI Integration, NAV 2017 will no doubt be the most efficient business management software of not only storing the data, but also showing most important analysis of data as and when required by the organization employees.
Summing it up

In NAV 2017, Power BI will allow users to create their reports and dashboards easily in NAV as embedded reports. Cortana Intelligence will allow C Level employees to plan Cash Flow, Procurement of materials based on important periods of sales, product level planning. Microsoft Office integration allows users to use Outlook in client machines in setting up Tasks, calendar client appointments, send Sales Order, Invoices, Purchase order from ERP itself using Outlook as the email agent. Optical Character Recognition (OCR) enables users to add external documents easily in NAV in machine readable format. Seamless integration with Dynamics 365 in Microsoft Dynamics CRM allows Sales Channel of an organization to interact with company's back office. Similarly using Add-Ins, Dynamics NAV 2017 can be connected with eCommerce and Marketplace platforms as well. Altogether NAV 2017 is a combination of next level of Business Management System to efficiently run and increasing efficiency of a Small/Midsize Organization.
If you are looking to integrate your Ecommerce store/Marketplace or CRM with your Dynamics NAV ERP system then click here!

You may also like:
10 Important Microsoft Dynamics NAV Features You Might Not be Using
Dynamics CRM and Dynamics NAV Integration
What's New in Microsoft Dynamics NAV 2017 Beta