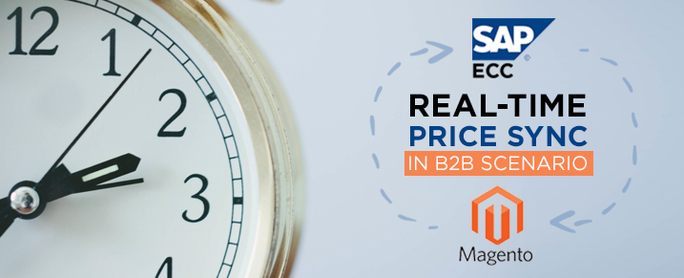 Companies using SAP ERP and Magento for their eCommerce, especially in the B2B (business to Business) scenarios consider pricing as one of the most crucial and complex points when it comes to sticking with commercial agreements with different companies. Companies using, SAP as their back-end would recognize the fact that when it comes to pricing, that pricing scenarios are not only complex but highly customizable with functionality like condition technique, pricing routines and customer specific pricing. Also mapping every price, tax discounts and surcharge within Magento is an intricate process.
With our solution, APPSeCONNECT, we enable customers to have a real time sync of customer specific prices from SAP to the front end. This feature simulates the price using pricing procedure defined in SAP and gets up to date price.
In this article, with the help of a demo video we have showed you the process of the Real-time price sync between SAP and Magento specially optimized for the B2B scenario. Following are the steps shown in the video –
STEP #1 CREATING SALES ORDER IN SAP
In the video you will the price the customer will get by placing an order for a specific product in SAP. This shows the price computed by SAP by running through the pricing procedure.
STEP #2 CUSTOMER LOGIN AND CUSTOMER BASED PRODUCT PRICE IN MAGENTO
Now you will see the company specific price when a contact person logs into Magento using his account. You will also see the same price both on SAP and Magento.
STEP #3 DISCOUNTED PRICE INTO SAP
Finally you will be able to view the instantaneous real-time customer specific price sync into Magento after the discount amount is changed for that particular customer. The discount rates will be applied for the customer for that particular product, reflected on the front-end.
Conclusion
This feature enables clients to honor their commercial agreements and ensure correct up to date pricing on their web-store as per price definition in SAP. Helping price accuracy ensures lesser disputes and claim management in future.
Check Out Some Popular Blog
SAP Merchandise Sync With Magento
SAP Merchandise Sync With Magento
SAP to Magento Sync – Part 3: Order to Cash Sync between SAP and Magento