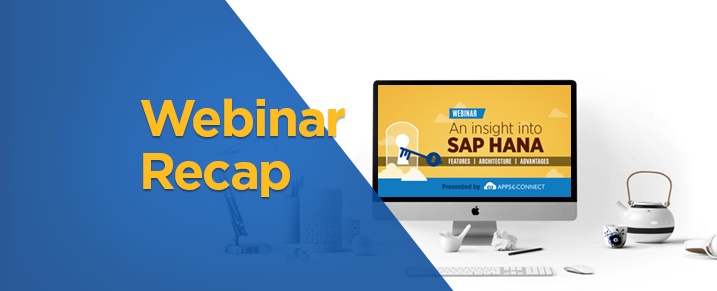 We had a Webinar on SAP HANA on 21st June 2017. Webinars are always a good way to learn new trends in the market. We saw a huge participation in this Webinar and we would like to thank all the attendees for making this Webinar a grand success.
Lets start with the key points which were covered in the Webinar:
What is SAP HANA?
SAP HANA Architecture.
Key benefits which can lead to SAP HANA as your backend database system.
Difference between SAP HANA and Traditional RDBMS.
Use Cases of SAP HANA Database system.
Technology basics of HANA database.
Limitations
The Webinar was presented by our Solution Architect, Mr. Abhishek Sur. He knows the SAP HANA Architecture very well and he made sure that all the queries of the attendees were addressed. With the help of this Recorded Webinar, you will get knowledge on the working principles of SAP HANA Database & the pros and cons of SAP HANA over traditional databases. Check out what's there in SAP HANA 2!

Webinar Recap: SAP HANA – Features, Architecture & Advantages
We had a Webinar on SAP HANA on 21st June 2017. With the help of this Recorded Webinar, you will get knowledge on the working principles of SAP HANA Database.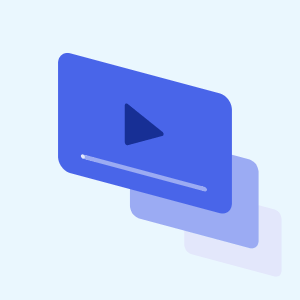 Lets check out some of the questions which were addressed in the Webinar:
1. Can SAP HANA run on Windows Environment?
Ans: No, it doesn't. Hana requires you to have either SUSE Linux of RedHat Hana has a strict requirement and it needs SUSE Linux or RedHat Enterprise to install HANA. One can install HANA Database in SUSE Linux and in the network, you can have Windows Environment from where you can install the Management Console. Currently, HANA doesn't work in Windows Environment or any other environment.
2. Is there any limitation on SAP HANA, if used in cloud?
Ans: No, there is no limitation in this case. HANA is very resource hungry and so you might have to pay a lot of money to use it in cloud. By using in cloud, you can get benefits like Scalability, Reliability, Pay as you go etc.
3. One of my customer uses SAP Business One with SQL Database (Size of around 75 Gb). Will SAP HANA be beneficial in this case?
Ans: Yes. With 75 Gb database, it is highly recommended to move to HANA because HANA works in real time. In anything below 16 TB, it is always recommended to go with HANA. One can get a better performance in HANA any day.
4. We currently use SAP B1 WS with B1 server. Can HANA be used as an integration tool to SAP Business One Rewriting Database?
Ans: No. HANA is a backend database system and it doesn't work as an integration platform. You can check our profile to integrate SAP B1 with other platforms. HANA cannot be used as an integration platform. When we connect to SAP B1 used on HANA database, we use Service Layer because DI Server is not always available in cloud environment. You can try out Service Layer to connect to HANA and Service layer can be the integration component.
5. What is the cost of HANA On-Cloud and On-Premise in US Dollar/user?
Ans: The License cost as mentioned is between 370 to 3000 Dollar/CPU. Check out the pricing here!
6. Do you know whether SAP B1 application is extensively Re-written for HANA or it is just the database migration?
Ans: Actually, there is some optimization present in HANA which will give a better performance when working with SAP B1 but SAP B1 is not Re-written.
You may also like:
SAP HANA 2 – The Next Generation Platform Optimized for Innovation
Webinar: Connect SAP B1 with apps using Service Layer (HANA)
Webinar- Connect Third Party Systems with SAP B1 – DI API, DI Server, B1WS