Webinar on SAP HANA – Features, Architecture and Advantages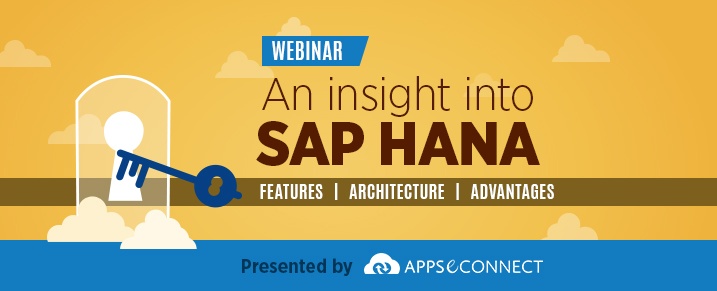 We all know that webinars are very beneficial and provides a lot of knowledge on the latest trends and technology. We are organizing a Webinar on SAP HANA on 21st June 2017 at  1:30 pm CET | 8:30 am ET | 6 pm IST. Here are the key points which will be covered in the Webinar:
What is SAP HANA?
SAP HANA Architecture
Key benefits which can lead to SAP HANA as your backend database system.
Difference between SAP HANA and Traditional RDBMS
Use Cases of SAP HANA Database system.
Technology basics of HANA database
Limitations
Mr. Abhishek Sur, Solution Architect at APPSeCONNECT is going to be the speaker in the Webinar. He has written two books on .NET for professionals and has a good knowledge on SAP HANA Architecture. He is also recognized as Microsoft MVP.
SAP HANA is an in-memory, column-oriented relational database management system. The primary function of the database is to retrieve data in real time and to solve database level latency for overall performance of the applications. This webinar will give you knowledge on the working principles of SAP HANA database and also define mutual pros and cons of SAP HANA over traditional databases used previously. Register for the SAP HANA Webinar Today!

You may also like:
Webinar: Connect SAP B1 with apps using Service Layer (HANA)
Webinar- Connect Third Party Systems with SAP B1 – DI API, DI Server, B1WS
SAP Business One HANA – What does it mean for your business?