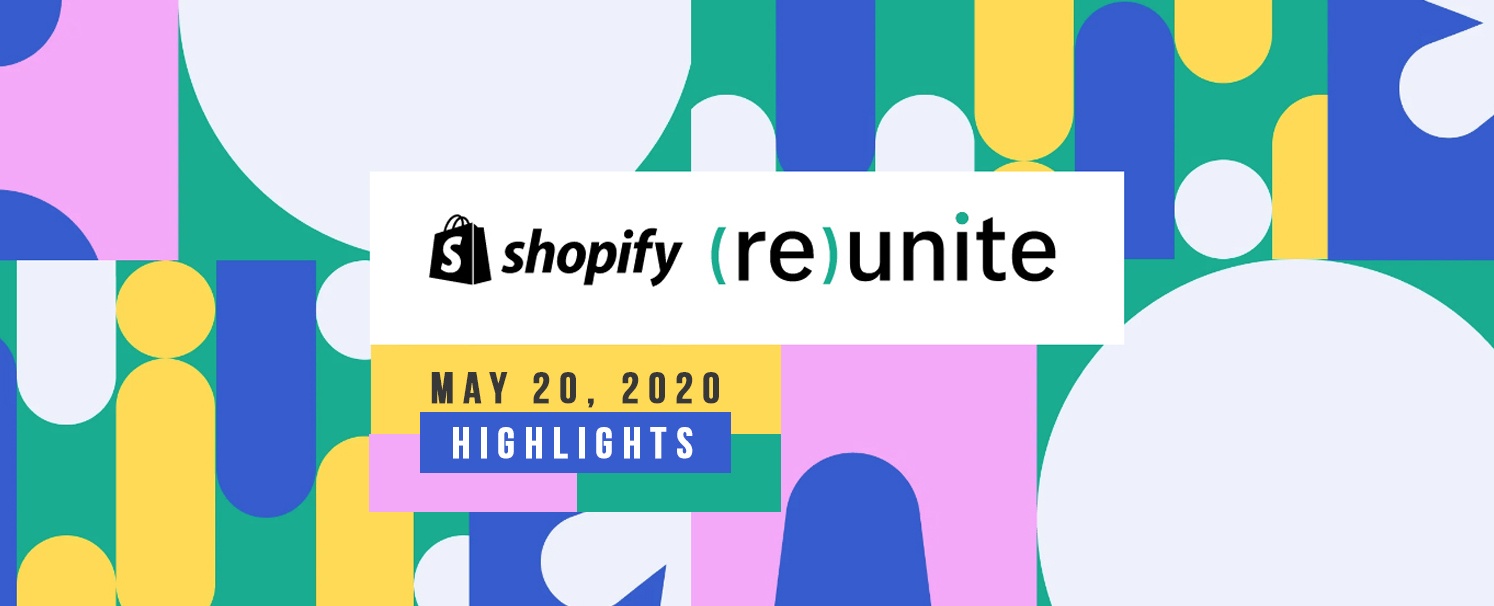 Shopify has been one of the leading eCommerce platforms for some time now. Back when they started, they were a team of enthusiastic employees who wanted to deliver the best to their customers. In order to do so, Shopify came forward with Shopify Unite, an annual and global Shopify event and conference which was aimed at sharing knowledge, technologies and innovation. It was an opportunity for partners and customers from all over the globe to be a part of the Shopify community and explore the future of eCommerce first-hand, and learn what could be built for a better future.
Times, however, have changed!
With the global outbreak and the rising public concern of COVID-19 across all parts of the world, Shopify was forced to make a tough decision of canceling the annual in-person conference – this was done to safeguard and protect the health of their employees as well as the attendees who might have come. It was also time for Shopify to find out how they could better serve their customers, given the situations got worse!
With all that in mind, Shopify accepted the new reality of independent working business and came up with Shopify Reunite – a first-ever Shopify live-stream event focussed at delivering the best experience to merchants, partners and customers. This online event made the global audience tune in to hear Shopify leadership talk about new product innovation and enhancements, showcase what the team has been building and equip merchants and users with the power of the future that is set to come.
Here's what happened at Shopify Reunite 2020
Keynote by Tobias Lutke and introduction to the Shopify Team
Tobias Lutke, CEO and Founder of Shopify took to the online stream and delivered his keynote to kickstart Shopify Reunite. As he said, Shopify's company mission is to make commerce better and easier for everyone. Lutke talked about celebrating entrepreneurship and how it can help individuals and companies improve their stand in the current digital landscape. With extensive entrepreneurship, companies and the employees have the ability to connect and discuss opportunities and problems that they might be facing – one of the best things about entrepreneurs being that they make the best use of whatever they have.
With the current scenario at hand, Lutke said:
"These are unprecedented times. This is going to be one of the most challenging chapters in all of our lives. But entrepreneurs are the kind of people who make the most out of what they've got. They're the people who can see opportunity when everyone else sees despair."
After Lutke, Shopify Reunite was joined by Mr. Craig Miller, Chief Product Officer and Vanessa Lee, Ecosystem Product Director at Shopify. They took to the online platform and not only brought to light to what has been done to the eCommerce platform but also the plans there are for the future of Shopify. Craig stressed on the fact that with the current change in tide for eCommerce, customer trends would be affected in a large way and strategic measures would need to be taken.

Highlights of Shopify Reunite 2020 sessions
The Shopify Reunite 2020 online event comprised of various aspects that were talked about. Here is a list of all the notable highlights:
Financial products that help you take control of your cash flow
Deliver orders faster, for less—without compromising customer experience
Sales channels to meet your customers where they are
Making it easier for every business to become an online business
Local domains and other features to offer localized experiences, globally
New functionality to save time on everyday back-office tasks
Even faster load times and a new store performance dashboard
A thank you to all the entrepreneurs everywhere
To know more and learn about all the highlights of Shopify Reunite 2020, click here.
New Announcements
Shopify Reunite brought to its merchants, partners and customers new and exciting additions and product enhancements to cater better to them in these dire times. Some of the most interesting announcements in Shopify Reunite are:
More Delivery Options
Shopify gives more power to its customers by allowing them more delivery options – customers can skip shipping costs by either picking up online orders in-store, curbside, or from other locations that they choose. Now, with the newly added feature of local delivery, things just got way more fun – this helps customers deliver orders to themselves in no time. This makes the merchants and customers connect locally and continue the business process smoothly.
Shopify Email
Email still now remains one of the most effective ways to reach out to customers through a fully controlled channel. With Shopify Reunite, Shopify has brought forward Shopify Email – an email marketing tool that is integrated with the Shopify store and allows merchants to work more proactively. Shopify Email gives the users the tools that are needed to build a long-lasting relationship with the customers – with numerous email templates to complete email tracking. With no design experience needed, Shopify Email has brought more power to the hands of non-technical business leaders in recent times. With Shopify Email, a merchant can construct beautifully structured email marketing campaigns and cater better to their clients. To add to this exciting feature, Shopify has announced that Shopify Email will be free to use until October 2020!
Shopify Shop Channel and Feedback
One of the best introductions Shopify has made to its suite of applications is the Shopify Shop app – this is a new and intuitive customer shopping application that takes the user experience to a whole different. With the Shop app, Shopify seeks to deliver an out-of-the-box customer experience and nurture their prospects in a better way. The Shop app gives Shopify customers a lightning-fast checkout, full and automatic integration to all Shop Pay purchases, and provides real-time delivery updates. Merchants can customize the Shop app profile to narrate a brand story or provide personalized recommendations that turn customers into repeat buyers. All in all, the Shop app elevates the entire customer experience and journey – from onboarding and checkout to delivery.
Shopify Balance
Shopify Balance is a new introduction to the Shopify family, wherein a separate business account is built for independent business owners and entrepreneurs. Since many merchants use both their personal and business financial accounts for operations, it is at times very difficult to measure the accurate financial health of the business. This is where Shopify Balance comes in – sell, spend, and scale with a business account designed for independent businesses. With Shopify Balance, users get their own card, account, and all the other money-management tools. Also, with this, there are no monthly fees or minimum balance required. Merchants have a clearer view of the entire cash flow and hence, the revenues are not overdue.

Shopify Pay Installments
With Shopify Reunite, came the idea of Shopify Pay installments – a simple and easy method to increase sales, build trust, deliver unique customer experience and increase the company revenue. The Shopify Pay installments let the users and the customers buy a product but pay for it later. This directly influences the sales funnel and increases the chances of profits. With this trust, merchants are prone to convert potential customers into returning buyers for the company. Users and customers can pay for purchases in four equal installments—interest-free and at no additional cost to them.
A lot has happened in the first-ever Shopify  Reunite 2020 online conference and event – with new product innovations and mind-blowing introductions to the working framework, Shopify has set the bar high in the eCommerce industry. Here are some of the important links that were discussed in the event:
For more references, click here.
---
APPSeCONNECT is a smart and robust business application integration platform that seamlessly connects Shopify eCommerce with all your business applications to streamline operations and facilitate the free-flow of data across the platforms. By moving into the region of iPaaS, APPSeCONNECT proves to be a best-in-the-class platform that easily integrates systems and automates the business processes.
Now, you can easily connect your Shopify store with the ERP/CRM or POS system to automate the business process!


You may also like:
Shop App: SHOPIFY's New Launch Ensures Better Customer Experience
5 Remote Working Trends That Will Shape your Business in 2020
How to Start a Dropshipping Business with Shopify – Ultimate Guide