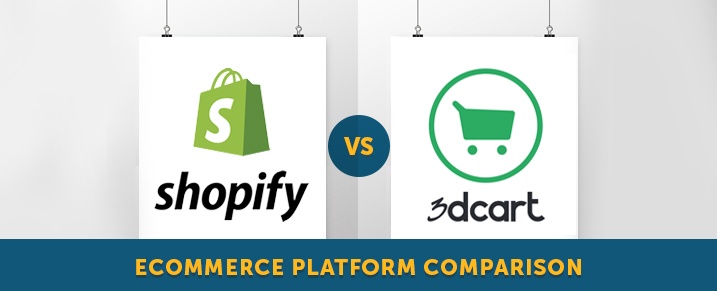 While reading this blog, you will be able to have an idea of which platform would be the best for your e-commerce store – Shopify or 3dcart.
Shopify and 3dCart are both well-known e-commerce platforms and they offer a variety of features to build, manage and create an awesome looking e-commerce store. It's true that both the platforms have good features for e-commerce businesses. However, both of them can be compared to see which might be the best fit for your company as per the business requirements. I am going to discuss all of thee features in this blog which will be helpful for you to take a decision and to develop your website.
Shopify and 3Dcart Comaprison:
1. Basic Functionality:
Both are matured e-commerce platforms and both of them are equipped with most of the required features to run a successful e-commerce business.
2. Product Management:
None of the platforms have any limitation on SKUs across any of the plans. One business can sell unlimited number of products through the website.
3. Discount Codes and Gift Cards:
Both these platforms offer the functionality to generate discount codes across all plans. However, in case of Gift cards, 3dCart is leading since it offers them for all plans whereas Shopify doesn't offer it for a basic plan.
4. Payment Gateways:
In this area, 3dcart takes the lead as it supports over 160 different payment solutions whereas Shopify supports only 70 payment gateways.

5. Teams and Templates:
3dcart is a clear winner here with 70+ free themes and 50+ paid themes, whereas Shopify has 10 free themes and 48 paid themes only. Also, the price of a theme is cheaper in 3dcart and starts at $99, but Shopify is more expensive and the paid themes start from $140.
6. SEO Capability:
Both the stores are having high-level SEO capabilities by which a business can procure a good volume of organic traffic via search engines. Shopify, however, scores little high on the offered capabilities for SEO than 3dcart.
7. Apps and Add-Ons:
In case of Apps and Add-ons, both platforms are in a neck to neck fight with multiple free and paid add-ons to have with various types of features and custom functionality for your storefront.
8. Transaction fees:
There are no 3dcart transaction fees for any of their plans (though standard transaction fees of payment gateway would apply). Shopify also doesn't have any transaction fees if one is willing to go with Shopify's own payment gateway. If however, someone uses any third party payment gateway then Shopify will apply the transaction fees between 0.5% to 2% based on the plans.
9. Cost:
Both the platforms offer a free trial and don't charge any setup fees which allows you to test the store without any investment.
3dcart offers 4 different plans as follows:
| | | |
| --- | --- | --- |
| Plan | Monthly | Yearly |
| Basic | $29 | $313.20 |
| Plus | $79 | $853.20 |
| Pro | $229 | $2473.20 |
| Enterprise | Contact 3dcart | Contact 3dcart |
Shopify offers 5 different plans as follows:
| | | |
| --- | --- | --- |
| Plan | Monthly | Yearly |
| Lite | $9 | – |
| Basic | $29 | – |
| Growth | $79 | – |
| Advanced | $299 | – |
| Shopify Plus | Contact Shopify | – |
Conclusion:
Shopify and 3dcart are both robust, scalable and reliable e-commerce providers with various important features to run an e-commerce business. By looking at the offered features in all plans, themes and templates, payment solutions – 3dcart scores little higher than Shopify. However, with the quality of features, Shopify stands at the higher position.
It is clear that a business can only decide which eCommerce platform to use by considering their own business requirements rather than following the market researches. I would, therefore, encourage all the readers to go for a trial of both the environments before confirming the purchase.
Now, you can easily integrate your Shopify/3Dcart store with your back-end ERP, POS and CRM to automate your business process!


You may also like:
Everything You Need To Know About 3dCart Version 8.0
7 Tips to Speed up your Shopify Store
3DCart Issued Flexible Store Credit Feature