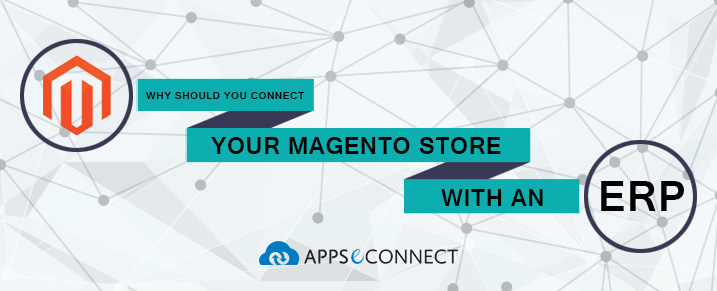 Magento is the booming e-commerce platform in the present market scenario. T he platform is basically focused in the sales process for a business, whereas a company have other functions to perform as well which is not possible to run within an eCommerce and can't be efficiently run manually in a business, hence an ERP software is often required to perform the daily work efficiently. ERP is the business management system which helps you to encounter and track your enterprise resources such as customer information, productions & manufacturing details, inventory & purchase etc.  By connecting your Magento store with an ERP system, helps you to automate your business transaction processing. Thus, saving your time and resources, if your business is growing, you have to grow technically along with it and connecting Magento with your ERP system just ensures that flow.
Here are few problems you might face if your Magento store is not connected with an ERP:
Your financial entries will not be automatically updated whenever the e-commerce sales transaction are taking place and also not be recorded. The issues of this process are that you are unable to get a financial overview at any point of time.
You can't improve your customer's satisfaction, your customers will not get any auto updates about their purchase without an ERP installation.
It is not possible for you to eliminate 'out of stock' scenarios, as you are not being able to update the stock which you have purchased, as the ERP is not connected, so often you end up overstocking/under stocking the product. Thus, in this way you do lose your customers.
You are unable to improve the order processing efficiency of your back-office. It is not possible to automatically feed the web orders to ERP, hence it will take more time and resource for order fulfillment.
It is not possible for you to track your guest checkout customers and orders if you do not connect your ERP, in future you will not be able to convert the guest buyer into a loyal customer.
So in this way corresponding systems can take care of the business operations, like eCommerce can control the Online Sales and ERP can look into the other business processes like Purchase, Production, Inventory Management, Accounts, After Sales Service, etc. A connection between Magento and ERP just enable to transfer important business data in an automatic manner. This helps businesses having moderate to heavy transactions in the website, to efficiently process these transactions through their ERP on time and with minimal resource and cost.
Few popular ERP software that you can connect with your Magento store:
SAP Business One, offered by SAP AG
Microsoft Dynamics or NAV
NetSuite
To know the insights of these ERP offering, you can have a look at this link:
What is a good ERP software to use with Magento?