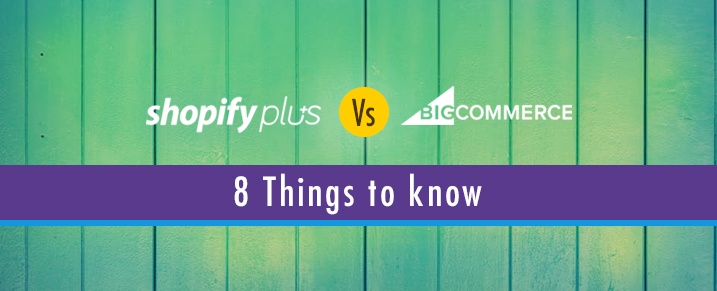 Bigcommerce and Shopify are two very popular e-commerce platforms offering responsive design and mobile optimization, conversion oriented user experience, simple user interface, support system and active community. Both platforms are equally good for bulk orders and volume sales. So, it would be fair enough to compare both the platforms on different parameters.
Research data has revealed that clients like GE, Red Bull and Budweiser are the current clients for Shopify Plus. Whereas, Bigcommerce Enterprise has been serving clients namely Toyota, Gibson and Payless Shoesource. Therefore, both the platforms have various features in common that make over $1 Million business.
Let's make a quick comparison of both in terms of web design and interface, integrations and Add-ons and customer support.
 1. SaaS-based e-commerce platform:
Both Shopify Plus and BigCommerce enterprise are fully hosted cloud-based software. To run the online store using any of these e-commerce, all you need to have is a PC/laptop, a good internet connection and an updated web browser.
2. User Interface:
The Menu column or dashboard for Shopify Plus and BigCommerce Enterprise is like the basic Shopify and Bigcommerce plans respectively. In case of Shopify, it is quite user- friendly and easy to navigate from adding products to drawing reports and editing themes. While Bigcommerce comes with out of the box features which are easy to use as well. Overall both competitors provide similar interface features, free trial and no credit cards required to get started.
3. Features:
Shopify Plus and BigCommerce Enterprise both offer wide range of features. They exhibit maximum uptime, unlimited bandwidth and scalability which is very essential for high volume sales, retaining high traffic and customer engagement. Also, both platforms offer multichannel selling capabilities and dedicated reps to guide through the setup of the entire store.

Now coming to the differences, Shopify Plus enables a smooth transition from the existing platform through a Traffic Control App which is designed to shift the existing customer to the new platform without a drop-in SEO whereas BigCommerce Enterprise doesn't provide such feature.
BigCommerce Enterprise is all about filtered search. Customers find their desired product by filtering through their preferred color, size, Price range etc. The Overall features are balanced in both the platforms. The tie-breaking factor is the availability of one page checkout in Bigcommerce Enterprise. Easy checkout for customers is a must have feature for any online store which is not provided by Shopify Plus.
4. Responsive Designs:
Shopify Plus and BigCommerce enterprise both offers mobile optimized and responsive themes but Shopify Plus leads in terms of Web design and themes. Shopify Plus offers 26 free themes and beyond that there are premium designs available for purchase; they're usually priced between $140-$180.
Some of the free Shopify themes are –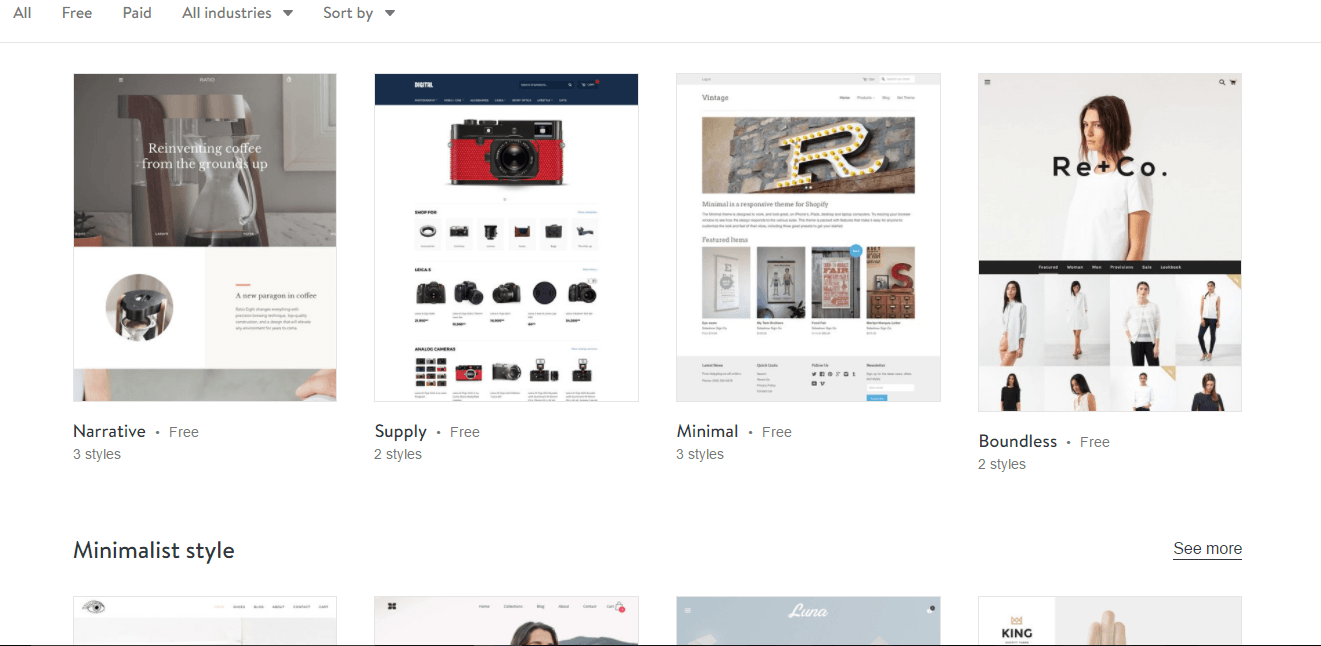 Bigcommerce Enterprise is no less in providing various themes. BigCommere has recently introduced the Stencil theme editor to their dashboard with 21 responsive themes. Below are few BigCommerce themes –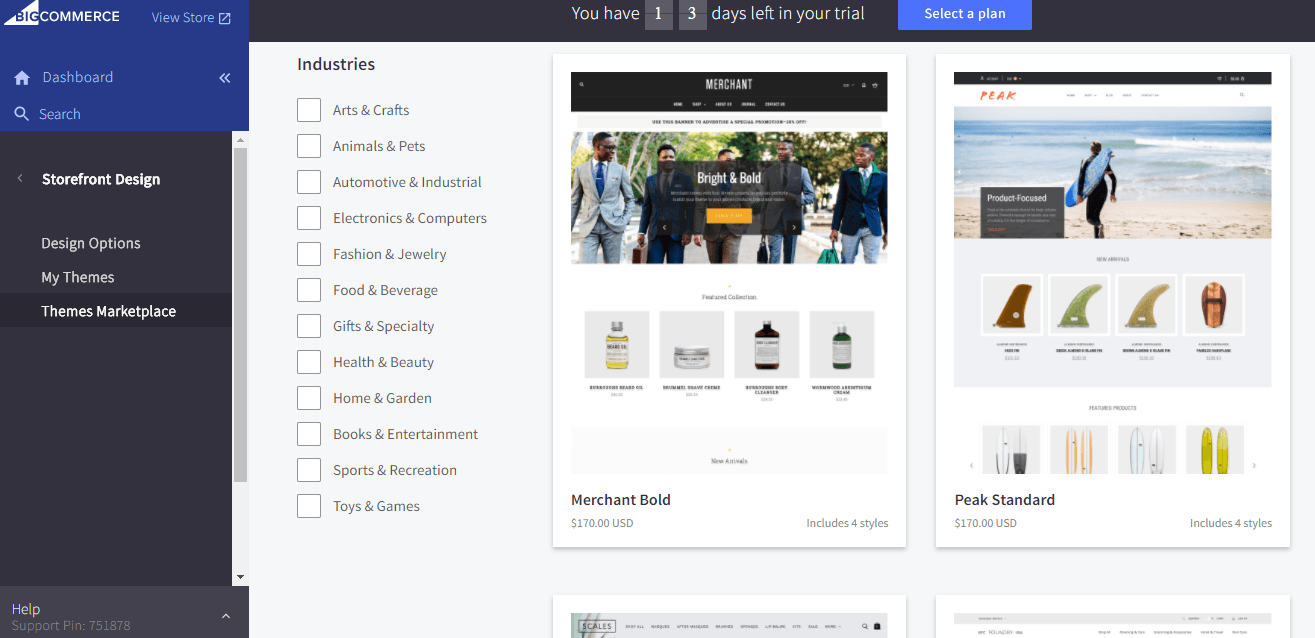 5. Integrations and Add-ons:
Shopify Plus comes with extremely useful add-ons in the Shopify Apps Store. Near about 1000 apps can be integrated with Shopify Plus which can be used for marketing, accounting, shipping etc. If an organization needs to develop new apps beyond the common operations, they can easily perform by using Shopify Plus's REST API. On the other hand, Bigcommerce Enterprise uses open source documentation where developers can use unlimited API calls. BigCommerce enterprise do not have as many apps available but still have many which can help to integrate. Having Alvara and Shipper HQ built-in is extremely helpful for company needs.  Therefore, on this parameter both the platforms are equally good to support large businesses.
6. Pricing:
Both platforms have competitive prices. Shopify Plus's pricing begins at around $1200/month and that of BigCommerce Enterprise's starts at around $900-$1500/month. So, their rates are comparable.
7. Payment Processing:
Both Shopify Plus and BigCommerce Enterprise works well with third party payment gateways like PayPal, Authorize.Net, and Sage Payment Solutions. Shopify Plus integrates around payment gateways while BigCommerce enterprise integrates over 38. Both carts provide some concessions on transaction rates. BigCommerce has a tie-up with Pay Pal that lowers merchants' credit card transaction fees if they choose to use PayPal. While, Shopify has its own payment gateway, Shopify Payments, which also offers less transaction fees for Shopify users. As Shopify connects around 70+ payment gateways I assume, it is better than BigCommerce enterprise payment process.
8. Customer Support:
Enterprise solution should have an active customer care service. Shopify Plus users are assured quick responses to their questions via an exclusive priority based phone number. Alongside the fundamental client benefit that all Shopify customers get (Community Forums, Knowledge Base, every minute of everyday Live Support), Shopify Plus customers are assigned a Merchant Success Manager. This individual knows the intricate details of your organization, monitors the new features and helps the user optimize their site as much as possible.Coming to BigCommerce Enterprise, it also offers priority based customer support. BigCommerce Enterprise has a Community Board and 24*7 chat support. BigCommerce University highlights video recordings to help answer much of the inquiries made. BigCommerce Enterprise additionally offers a Strategic Account Manager, but only at extra expense. So, with most of no expense customer support service, Shopify Plus leads as an enterprise solution.
At last, both e-commerce platforms can equally fit in the requirements of volume business and large sale; everything relies on upon what the user is searching for.
Now you can easily integrate your Shopify / BigCommerce store with the back-end ERP and improve your business process!

You may also like:
How to Create Cart-Level Discounts in Bigcommerce?
Why You Should Choose Shopify Plus
Magento B2B Enterprise Vs Shopping Cart Elite – Best B2B Solution