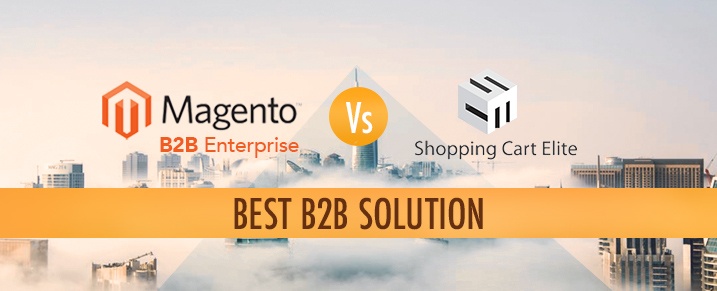 The Magento global ecosystem of talented developers includes many industry related extensions and custom made systems. Magento is one of the leaders in B2B commerce, featuring 41 merchants on the Internet Retailer B2B eCommerce Top 300 Sheet.
Shopping Cart Elite is a complete e-commerce platform that helps enterprises to create another online store and work as a separate entity. Its features include Customization, inventory management, SEO and Marketing. Shopping Cart Elite is the only platform that can power multiple catalogs, provide access to open APIs, sync inventory between all website and marketplaces, list on all marketplaces, predict visitor behavior and advertising campaign optimization etc.
Magento B2B enterprise solution
Magento is a leader in B2B commerce. It has already powered 300+ eCommerce businesses. As B2B has evolved the customers or rather the trade customer expects the same shopping experience as that of B2C. Let's check out some of the interesting features of Magento B2BEnterprise:
Like any other eCommerce platforms, Magento B2B has some common functionalities like sales, marketing and account management system through an eCommerce website.
1. Customer engaging experience:
Each Customer get their own username and password to access the platform. Once they have successfully logged in, they shall be able to view their specific pricing, order history, promotions etc.
2. Stock availability:
It allows merchants to view their stock levels. They can either mention the exact stock levels or simply indicate high / low.
3. Streamline Bulk Orders:
Rapidly streamline bulk orders by making bulk pricing levels, with per-unit expenses and discounts as indicated by order size range.
4. Master Inventory Management:
Managing inventory has become easy for clients. From drop- shipping to schedules deliveries and the ability to track across multiple warehouses.
5. Negotiated Price terms:
Magento B2B payment option include purchase orders, invoice me and complex verifications for different choices—PO limits, great credit standing, and so forth. With quote creation, you can quote to request and course for endorsement and spending work processes.
6. Robust backend system integration:
Magento flawlessly incorporates with your current backend frameworks, making the ideal trade arrangement. The vigorous Magento worldwide environment of engineers incorporates numerous industry-particular augmentations and custom frameworks, giving you a quick time-to-market at the most minimal Total Cost of Ownership.

Now, you can easily integrate your Magento Store with the back-end ERP/CRM and improve your business process rapidly!
Shopping Cart Elite
Shopping Cart Elite is another robust eCommerce platform. It keeps updating its workflow to add new functionality to streamline the process. Here are some of the key points to consider for Shopping Cart Elite:
Primary Website features:
 1. Website
As soon as user types the term, it can predict the search results by using smart search algorithm.
It uses an algorithm based on SEO and matches them to every keyword of the product to ensure relevance.
One can create numerous custom filters to allow customers to filter specific product from the search results and reuse later.
It maintains a Cloud Template for custom looking website. The platform is constantly enhanced to deliver a user-friendly experience.
2. Mobile design
100% mobile friendly as tested by Google.
The adaptive design allows the website to load either in the desktop version or the mobile version.
Text, images and pages are highly optimized to render quick navigations.
3. B2B eCommerce Shopping cart
Expertise in Business -to-Business dealings and taken over the manual processes of data entry and catalog management.
Vendors can set discounts as per the order quantity.
Offers data and inventory feed to the merchants.
Once can push the items directly to his dealer's marketplace accounts.
The custom wholesale application is mapped to CRM.
Can liquidate the inventory to marketplaces if the merchant is in overstock situation.
Allows repurchase by storing the Customers' Credit Card details on a secure server.
4. Payment Methods
It accepts payment through PayPal as it is easy to set up.
Another best method is Amazon checkout; it allows customers quick and easy login to pay through their Amazon account.
5. Live Chat
Users can view their chat history as the transcripts are stored indefinitely and one can delete them anytime.
Automated Triggers allow you to set automated messages based on visiting a certain page or performing a certain action.
Multiple agents can be added at a time. Every agent is an administrator of their own account.

Marketing features of Shopping Cart Elite:

1. Omni-Channel Hub (product of Shopping Cart Elite)
It is a centralized system for multi-channel retailers who are dissatisfied with their current supply chain management software.
It allows your business access arrange of marketing channels like Amazon and eBay and helps maintain and analyze operations across these platforms.
2. Marketplaces
Shopping Cart Elite can be the central hub for all your products to sell on Amazon, eBay or Google Shopping.
The orders, inventory and customers are synchronized in the back office called Hub.
3. CRM
The integrated customer relation management system is enough for eCommerce.
It can be used to manage quotes, orders and bills, e-mail communication, attachments, notes, rewards, B2B discounts, contacts and so on.
Sales Automation, marketing automation, Analytics and forecasting and Support automation is also essential for customer management.

Offline Operations of Shopping Cart Elite:
1. Shipping
Proud partner with ShipStation.
Shopping Cart Elite supports UPS, FedEx, USPS, Endicia, AU Post, Canada, and even FreightQuote.com for live rates and label printing.
Shopping Cart Elite uses smart shopping by scanning a valid SKU Number for each product they pack.
Easy shipping rules and shipping rates for international shipping.
2. Warehouse management
There is always an accurate count of the items. Quantities in your warehouse are accurately reflected on your Marketplace.
BIN Locations are assigned to multiple warehouses and easily synchronize to each inventory SKU so that merchant can know exactly where his products are in the warehouse.
Merchants can set alerts when his inventory reaches a certain level or an expiration date.
Depletion and replenishment alerts allow the merchant to replace things before inventory is gone and have them ordered exactly when needed.
Therefore, Shopping Cart Elite and Magento B2B are popular B2B platforms in the market.
APPSeCONNECT integrates both platforms i.e Magneto B2B Enterprise and Shopping Cart Elite with Popular Backend ERPs and CRMs. Start your Free Trial Now!

You may also like:
Magento 1 vs Magento 2 – The Reasons to Upgrade to Magento 2
14 Best Practices to Develop the Best Data Integration Platform
Enable your Magento 2.0 store with B2B features
B2B Commerce with SAP & Magento – Is B2B the new B2C?