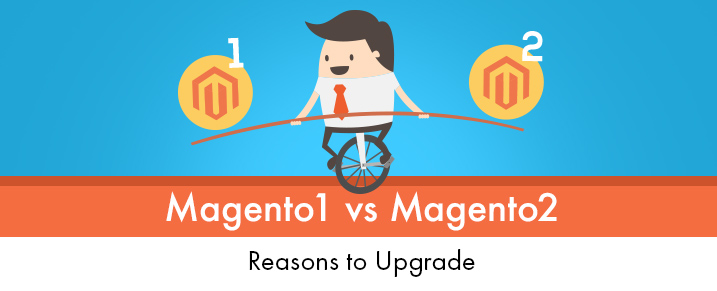 Magento has always proved its mantle in the battlefield of ecommerce, providing the best features in its services and products. Now with the launch of its new platform Magento 2, a debate about adopting it as the superior ecommerce solution has taken the podium.
Magento recently made an announcement that cleared all the speculations. Magento is Extending Support for Magento 1.x Websites. They have committed to provide security patches through June 2020 to ensure the 1.x versions remain secure and compliant. The primary question that is holding back the Magento 1x community is simple, why move to new one when we can do fine where we are?
In this infographic, we will show you all the reasons why this notion is wrong.

The first thing that comes across the mind when we talk about platform superiority, is speed. Speed was the central factors that caused Magento 1x to age beyond its era. Magento 1x can no longer produce the loading speeds required by average to small sized websites. This can directly damage your conversion bank and destabilize your website traffic. Magento 2 on the other hand was able to remove all these glitches and raise the page loading speed upto 50% faster and 38% on checkout pages. Visitors can now experience less than 2 second page loading time allowing them to almost instantly access their web pages and interact with the content. The code structure also received several improvements which made capable of taking on 117% more orders than the previous versions of Magento. Magento 2.0 can also afford 2.1 million more page views compared to its predecessors.
Aside from increasing website speed, Magento 2 has also notched up website security with more secure payment gateways and safer data storage practices for clients and users. With a streamlined and efficient Back end, merchants can easily access their emails and make the necessary changes in their stores. To learn more about Magento 2, see the infographic below designed and complied by Team FME.
Author Bio:
Simon Walker has more than 7 years of experience in eCommerce industry. He currently works for FMEextensions – a Magento website development company, where he has developed Magento extensions & themes. He is also consulting businesses to help increase their online exposure and conversions.  You can reach him on Twitter and Facebook.
Connect your Magento store to your ERP/CRM and improve your business process rapidly!

You may also like:
Magento 1 to Magento 2 Migration Steps – An Infographic
When and Why should you upgrade to Magento 2.x?
How to implement payment gateway in Magento 2
Enable your Magento 2.0 store with B2B features