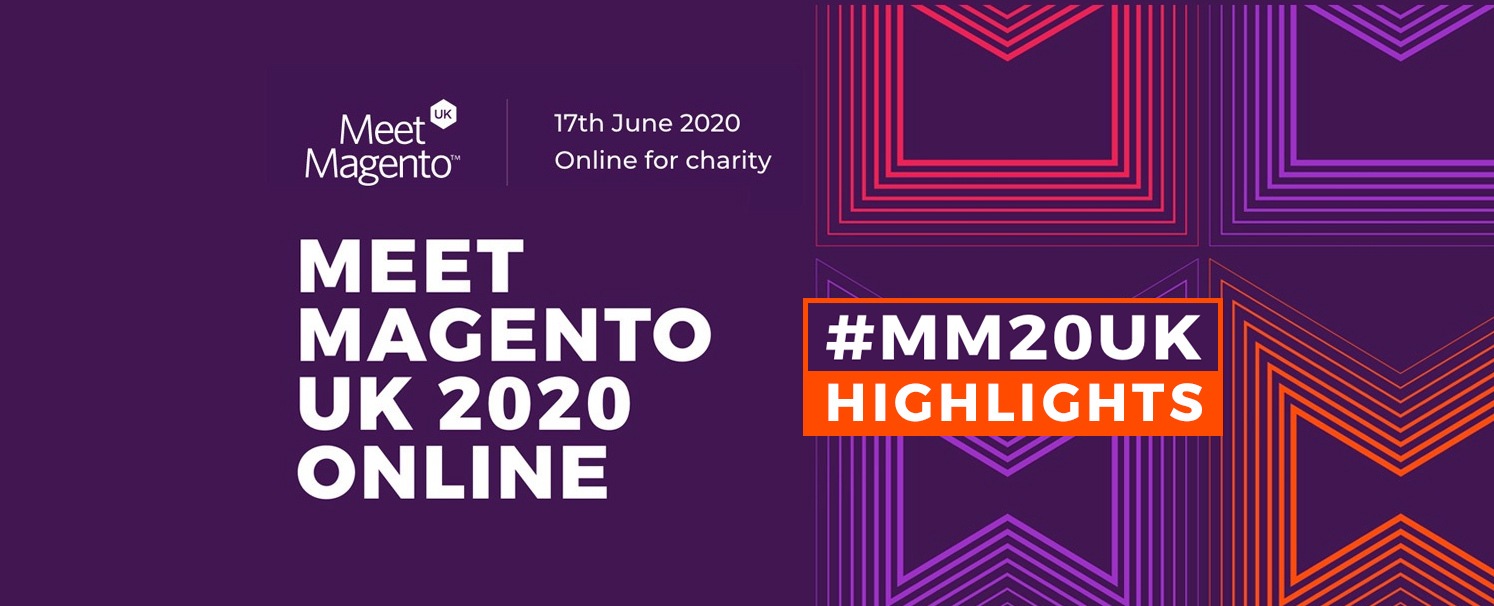 Magento is a name known to all in the eCommerce industry. It is one of the few eCommerce platforms that cater to its customers in their own personalized way and gives the power in the hands of the user. Meet Magento is the annual global event and conference of Magento eCommerce which is aimed at sharing, innovating, networking and enhancing the overall Magento experience and nourish the Magento ecosystem. For the 9th time, Meet Magento UK 2020 took place amidst the severe spread of Covid-19.
Due to the outbreak of the novel coronavirus, this event was completely hosted digitally for the first time and speakers from around the world joined and shared their thoughts from their own houses. Meet Magento UK 2020 Online aims at uniting the Magento user-base with the Magento Community and provide a chance for the users to share their experiences, communicate and innovate with like-minded professionals, and learn directly from industry thought-leaders and experts, This event brought to light several new marketing ideas as well as better and newer solutions that empower businesses from the core of Magento architects. Some of the major attractions of the online event were the launch of Magento 2.4, headless commerce with Magento PWAs, cloud scaling of Magento and the effects of Covid-19 on retail. The event was scheduled on the 17th of June, 2020 and included 34+ speakers that attended 900+ participants.
Let's see how the online event was!
Event Spotlight: Meet Magento UK 2020
The event started with the opening keynote by Mr. Jamie Huskisson, Meet Magento UK organizer who welcomed all the 1100 attendees from all over the globe. He stated how things have changed due to the pandemic and how Magento still remains strong.
I think @MarshaMarshaMa_'s talk here on Diversity and Inclusion will be one watched back many times by people in the community over the coming weeks/months.

An outstanding talk, eye-opening and just a fantastic amount of content full of suggestions. #mm20uk https://t.co/jPo1QP9Y9I

— Jamie Huskisson (@jhuskisson) June 17, 2020
Magneto 2.4 Announcement – Going Headless with Magento PWAs
With the Adobe Summit taking place a few months back, the release of Magento 2.4 was already disclosed to the public. Now, at the Meet Magento UK 2020 event, Eric Erway, Senior Manager, Product Management at Adobe Magento Commerce introduced everyone to the Magneto 2.4 platform that is due to be released in August 2020. With this, the new features and improvements in Magento 2.4 were also presented – better B2B capabilities, flexible support for headless commerce and omnichannel with Magento, security improvements and Magento intelligent commerce. The beta version of Magento 2.4 is already available to SI and tech-partners. Also, two TCO tools have been added in Magento to help the smooth running of operations and clarity of business – 1. Safe Upgrade tool – aims to identify conflicts between the new Magento version and your store; 2. Site-Wide Analysis – monitors health aspects of the website and notifies, if there're any errors.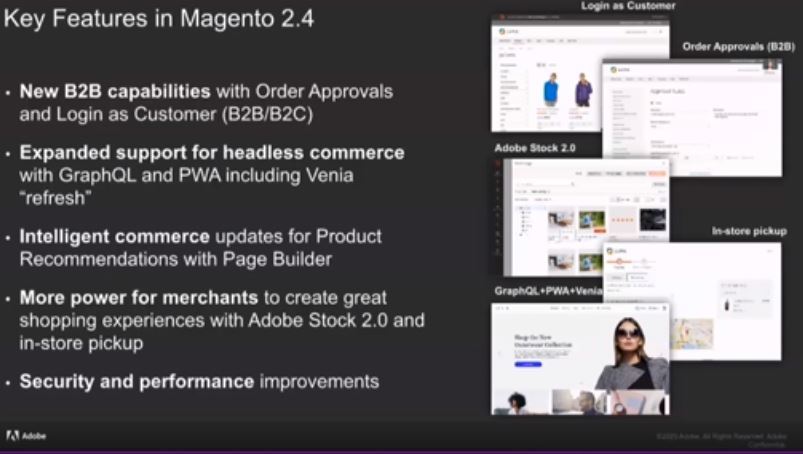 With Meet Magento UK 2020, Eric also talked about going headless in commerce with Magento PWAs and GraphQL.
You can watch the entire video here.
Thanks for attending my session on "Headless Commerce with PWA and Magento 2.4" at #MM20UK and to @steph_k88 as our Platform Track host. ?

✨ Experiences not products
? Magento 2.4 is coming in August
? GraphQL, PWA nearing completion
? Venia refresh, recos, 3D/AR/VR in PWA pic.twitter.com/njv8cXGp1U

— Eric Erway (@ericerway) June 17, 2020

As a part of Adobe and with the power of Sensei, Magento has developed a multi-year roadmap with features designed to power a full suite of Intelligent Merchandising for Commerce. The journey over the last two years includes hiring a team of engineers to focus on this effort, developing a new paradigm for SaaS services on Magento while delivering Sensei for Commerce capabilities.
In this session, Nicole Cornelson, Director of Engineering went over to explain what it takes to develop a new data-driven capability from scratch and highlight some of the highs and lows along the way. Data-powered software development has come a long way in the last few years. Our team is able to combine the latest standards with Adobe domain expertise to deliver a world-class feature. But, we are only getting started! To further illustrate our goals for the future, we will review our vision roadmap.
You can watch the entire session here.
Peter Sheldon, Senior Director of Commerce Strategy at Adobe took the virtual stage to talk about how the coronavirus has changed the entire ecosystem. Peter brought to light how this pandemic has hit the eCommerce industry and how consumer behavior has changed to suit the new normal. According to him, we all expected a decrease in sales, but the situation is the opposite. Comparing with the Adobe predictions from March to May last year, $52 billion extra has been spent online during the pandemic. The virtual stage was then handed over to Andy Mulcahy, Strategy & Insight Director at IMRG, who talked about the Covid-19 impact on online retail. While Peter gave us statistics about the ecommerce growth in general, Andy compared the influence on clothes retailers, healthcare industry and others. He had a very informative presentation, and we strongly recommend watching it.
Here is the session recording.
With Meet Magento UK 2020, attendees got to explore the infrastructure scaling of Magento from an operational perspective. They learned what more there is to cloud scaling than 'just adding in an extra instance' and how to increase availability, improve performance and reduce costs.
Architecture, monitoring, automation, tooling, planning and relationships are the parameters that facilitate the scaling of multi-cluster environments and dedicated PWA platforms.
Digital Transformation and Automation
Ray Bogman, Senior Business Solution Architect in Adobe, talked about digital transformation through his idea of the "Innovation Matrix". Bogman gave a guide on how users can efficiently migrate their digital transformation from Magento 1 or 2. Using his 10 Building Blocks, Bogman presented some best practices and working frameworks for the transformation.
Check out the session here.

eCommerce marketing and metrics
Chloe Thomas, author and an eCommerce podcast host, gave advice on how online businesses can grow in 2020.
She said to retailers:
Avoid shiny objects – you need to focus on the problems you need to solve, instead of creating new ones.
Everything should be optimized -always review, analyze, and adapt.
Don't forget the whole customer journey – you need to see the whole picture.
Be ready to make changes fast – have a levers plan.
Treat geographic regions differently.
View the entire session here.
Love this – thanks for sharing, Rebecca! https://t.co/cKylGUi86G

— Luke Carthy ? (@MrLukeCarthy) June 17, 2020
Among others, we had sessions like
You can simply log in and watch all the Meet Magento UK 2020 sessions here!
Even in this pandemic, Meet Magento UK surprised us all with all the insights resources that were shared on the virtual arena. The online Meet Magento UK 2020 marked the first-ever fully digital Meet Magento event that encompassed innovators and enthusiasts from around the world to gather, share and innovate for the brighter future of the eCommerce world and the Magento ecosystem. We hope that in the years to come, Adobe Magento will surely roll out more such enhancements and innovation that brings the people of this world closer.
Now, you can easily sync your Magento store with the back-end ERP/CRM system to automate the business process!

You may also like:
Shopify Reunite 2020: Key Highlights and Major Announcements
Magento 2.4 to Release in 2020. What to Expect?
Adobe Summit 2020 Online: Keynotes and Major Highlights on Magento