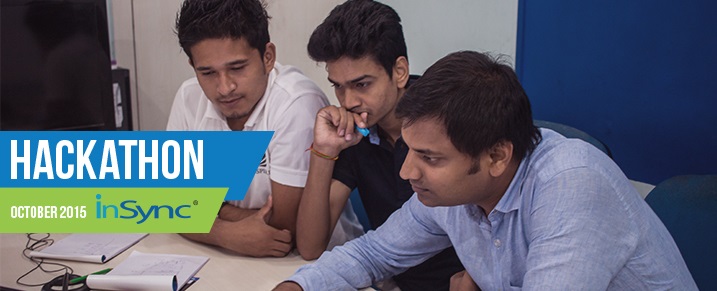 'Consistent action, creates consistent results' ~ Christine Kane
Hackthon 2015 is the most awaited event of the year, where the team Insync gathers together for a non-stop 34 hours brainstorming session with a vision & goal to achieve. The idea behind this event is to mix work with pleasure, taking some time away from the monotonous work schedule.
On 9th & 10th October 2015, 33 participants from the company were divided into 11 groups consisting of 3 member each, with a specific goal. This event was hosted by Atul Gupta the CEO and mentored by Subhajit Goswami, the Business Head, Samarendra Ghosh, the Product Head, Md Riaz, the Accounts Manager and Narottam Das, the Senior Functional Consultant.
Hackathon is an extremely power packed event with excellent team efforts, fun and frolic and extensive co-ordination to reach the deadline.
The event started well with a positive and energetic attitude. In the morning, the participants were provided with an appetizing breakfast to kick start the event. Soon after the breakfast meet, the participants were allotted their team and assignments. This Hackathon assignment was to be completed within the allotted 34 hours, racing against time. The working environment totally changed that day, there was definitely work but also a lot of healthy competition among the teams. After all who doesn't want to win? Although it was a competition, members from other teams helped each other out as we believe in unity in order to achieve the single goal.
Later, in the afternoon, a sumptuous Bengali buffet was laid in the open and everybody joined in for the lunch meet. Soon afterwards, good sound tracks were put on, to keep up with the exhilarating environment. After midnight, many of the participants were seen taking a power nap. The atmosphere was charged and so were the participants with nonstop laughter along with accomplishment of the tasks.
The next morning all the team members started to submit their task to our CEO, Mentors & the Guests Achal Chawla, co-founder, tradedesk.in and Ravi Kedia, co-founder, tradedesk.in. At the end of the event, the participants had surpassed their mentors' expectations. They came up with excellent innovative concepts and ideas for implementing in our products, websites and social media.
Finally, the eventful 34 hours came to an end. Though it was a tough neck to neck contest as all the participants had put in their hard-work and efforts; the CEO and the mentors had to come up with the winners. Three teams won the first, second and third positions and the management handed over the gift cheques to the winners of Hackathon 2015.
Do check out our awesome Video:
You may also like:
InSync having fun in Previous Hackathon.
Hackathon 2016 – Yet another successful event!