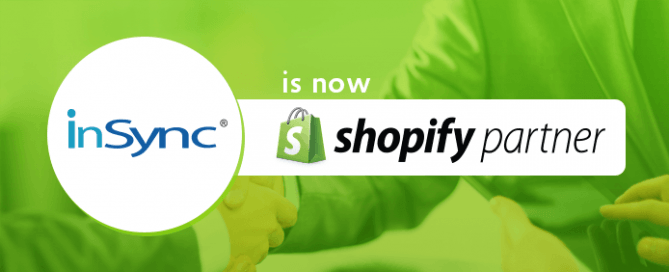 We are excited to announce that Insync is now a Shopify Partner. As a part of this partnership, our solution APPSeCONNECT is now acknowledged for seamlessly integrating Shopify online stores with a host of ERP systems and CRMs, automating the fulfillment and shipping process. It's a wonderful opportunity for us to work with a community of one of the fastest growing ecommerce platforms today.
Founded in 2006, today 120,000 online stores are powered by Shopify. They changed the way how people used to look at the process of initiating an online business by providing a turn-key ecommerce solution. What appealed to people was the ease with which you could start and launch your online business in a time span ranging from a few days to at max a couple of weeks. Shopify allowed merchants to focus more on what they were best at: making and selling products.
Some numbers that testify Shopify's success:
• $60 million of sales processed per month
• 10,000 orders processed per minute at peak
• 100% traffic growth year-over-year
• 80 millisecond response time per request – a number that decreases as traffic increases
Shopify users are going to feel the same level of simplicity and comfort with APPSeCONNECT as we have default templates to enable quick integration of platforms with Shopify . In 5 simple steps anyone can connect their store with an ERP/CRM. Alternatively for complex business processes as well we have configurable templates which can be changed without having to write a single piece of code.
APPSeCONNECT has a hybrid architecture which combines the best of on-premise and cloud solutions. With the hybrid approach you get complete control of the integration on cloud while your business critical information like the credentials to your platforms, transactional data all stay safe in your server.
By joining hands with the global ecommerce leader Shopify we wish to extend our expertise in intelligent integration to make you grow a successful online business.
Here is a short demo of how APPSeCONNECT can have your different platforms connected with Shopify in real time: