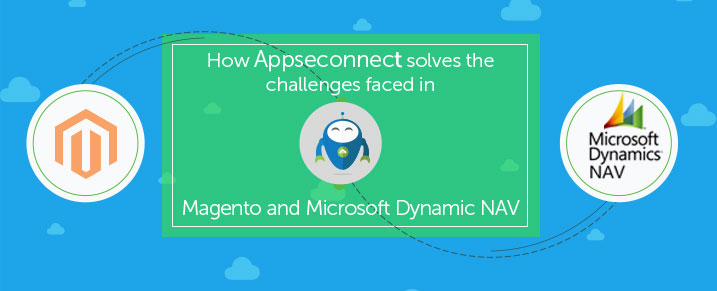 Today every alternate thing around us are changing and upgrading, this convergence era has given birth to eCommerce business. To nurture the e-business growth, there are the certain point you have to understand. Firstly, it is always advised to use the best of breed solution, as neither of eCommerce platform and ERP system can run the e-business efficiently. Magento, as we know, is an incredible platform to run your e-business but to run it seamlessly Microsoft Dynamic NAV enhances the process.
You can use Magento for your e-business, but to control the backend business activities, an ERP software is essential. Any new implementation do have certain challenges involved, still there are many ways to overcome them.
Let's have a look how APPSeCONNECT Integration in between the two platform makes it easier and seamless:
Benefits you get after installation:
Your customer will be updated on their order processing, this improves your customer satisfaction.
You can have a complete financial report of your business anytime, as NAV automatically records the transaction.
You can beat the stock elimination scenarios, this process will sync the updates in real time in inventory.
The order processing takes less time, the ERP automatically feeds the web order into Microsoft Dynamic NAV.
You can effectively plan your supply chain, as the sales directly reflect on NAV.
NAV tracks your guest customers and their sales order, so now you can convert your guest shoppers into your loyal customers.
How will APPSeCONNECT help?
This incredible sync's between your systems, give you a bi-directional platform.
Offers you deep integration with prerequisite touch points.
All the integration features are out of the box approach.
Easy personalization as per your e-business requirements.
Finger-tip integrated touch points are as follows:
Managing your customers:
Your new customers information like orders, contact number, accounts, billing and shipping address will automatically synchronized to Microsoft Dynamic NAV's master data.
The details of your existing customers are loaded to NAV and automatically transferred in real time.
The best part is you can configure to sync the guest customer information with NAV using a different B.P. code for easy tracking. In future, this will help you in your marketing activity based on their contact information.
Categorizing your products:
In Magento, any product detail upgrades reflect directly on NAV master data.
In one click, you can download any virtual type of web products in Microsoft Dynamic NAV.
An exact inventory stock is maintained in both the Magento and NAV. APPSeCONNECT can be configured to support 'in stock committed+ ordered inventory or in stock –committed inventory level'.
You can define multiple groups in Magento which can be directly associated with corresponding NAV, this helps you to apply group wise pricing.
NAV allows you to attach multiple product images before putting up on Magento.
Your web store will reflect period and volume discounts set by you on NAV.
How to manage the orders?
The orders placed by your customers (web/guest) on Magento will automatically converted into Microsoft Dynamics NAV Sales Order.
NAV enables you to check on the order approval, payment, stock and customer information before approving the web order which can be synced back to Microsoft NAV as a sales order. You can also select which web order to sync with NAV via mapping screen.
The payment methods will be synced by APPSeCONNECT from Magento to NAV. During an online transaction, the ID will sync back to NAV sales order, along with the payment mode (PayPal/Authorize.NET/eWallet etc.) hence this will provide an option to charge NAV user corresponding payment gateway.
Your customer can instantly get updated order status, once the invoice is generated in NAV like from 'pending or processing to shipped or delivered'.
APPSeCONNECT Supports and maintains same order value if any discounts are applied both on NAV and Magento.
How the Payment processes take place?
A payment gateway is integrated with Magento store, the verification and authorization process will take place in the gateway website.
After the payment authorization, the payment method can be loaded as a prepaid payment in Microsoft Dynamic NAV with a transaction ID.
APPSeCONNECT can easily load information if your Magento store is PCI-PA DSS compliance and you have saved credit card information.
What is the shipment method and price?
Via APPSeCONNECT, the eCommerce shipping process and charges will be mapped with Microsoft NAV.
Magento will sync with NAV, the web users shipment tracking number. The tracking number will be available in the storefront, and the customer can track their order details.
APPSeCONNECT have the incredible capability to connect multiple sites with Microsoft NAV. This is a fully automated synchronization process defined at a time interval, where you can have the trigger manually set at your convenience. Thus, the challenges faced between Magento and Microsoft Dynamic NAV, is easily settled by APPSeCONNECT. So you can run your e-business in a pre-defined streamline making it efficient and seamless.
You May Like It.
Challenges faced while integrating ERP with eStore? How can APPSeCONNECT resolve this challenges?