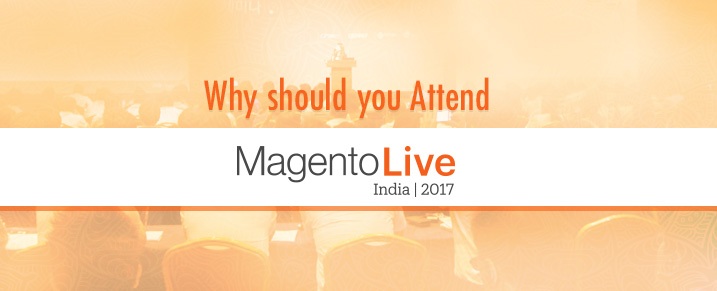 Magento is hosting its first ever event in India known as Magento Live India 2017. It will be held in Leela Palace, Bangalore on 2nd May 2017. This is the first ever event done on Magento and by Magento in India. Magento is an eCommerce platform for small, medium and enterprise level businesses. Still thinking why, you should attend the Magento Conference? The following points should attract you in case you are looking to join the great e-commerce revolution:
India is one of the world's emerging player in eCommerce market
According to Morgan & Stanley, India will reach to $159 billion by 2020 in e-commerce market share. This is due to the fact that many new players are joining the e-commerce boom in India. Magento Live India 2017 will cater to all those segments of people in the e-commerce sector. Investing your time in the event will be quite beneficial due to the fact that it provides a gateway to e-commerce domain.
Exposing to the vast Magento developer Community
If you are a developer or wish to pursue your career in Magento development, then Magento Live India 2017 will expose you to thousands of developers across the globe. You can share or learn new techniques of Magento development system and also get to know the latest Magento coding standards. You might get a chance to work with one of the e-commerce solution giants.

Learning, Learning and Lots of Learning
Magento Live India 2017 will focus on many areas of Magento learning. Since the speakers are from different domains of Magento and have decades of expertise, you can expect a lot of learning. You can get the full list of speakers here.  You can learn the following by attending the event:
Introduction to Magento 2
Successful Migrations on Magento
Extension Development Best Practices and Marketplace EQP
Powering Tomorrow: Understanding Magento 2.2
Navigating Magento Commerce Order Management
and many more……….
Meeting APPSeCONNECT in the event
APPSeCONNECT is an iPaaS solution provider. It is a platform to connect ERPs with eCommerce, marketplace and CRMs. APPSeCONNECT connects Magento 2.0 and lower versions to SAP Business One, MS Dynamics Nav, Sap ECC/ All –in-one and MS Dynamics CRM. APPSeCONNECT will be present in Magento Live India 2017 to answer all your queries regarding data synchronization techniques. Now, you can easily integrate your Magento store with the back-end ERP or CRM and improve your business process!

You may also like:
Top 10 Magento Themes for your Ecommerce Business
APPSeCONNECT exhibited as a Silver Sponsor at Meet Magento Croatia 2017
When and Why should you upgrade to Magento 2.x?