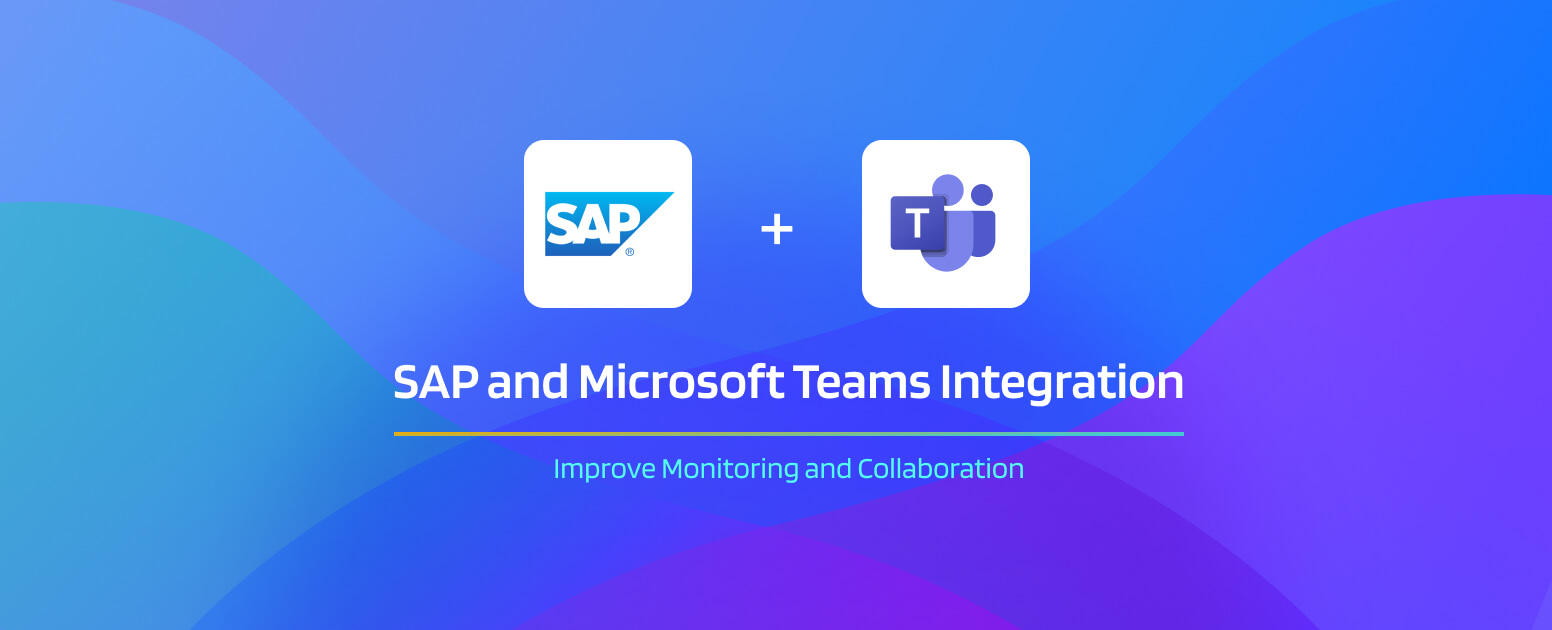 In this digital world we currently live in, real-time access to information and connectivity are the fundamental pillars to success in any line of profession and integration is the key to this digital transformation. Rapid communication of accurate information between team members, departments, and digital systems is necessary to effectively identify and resolve errors and bottlenecks across a workflow. A system that communicates data from the central ERP platform of an enterprise to the collaboration application used by team members of an organization for real-time communication allows for improved monitoring of processes and collaboration. Thus, having a connected ERP and business communication platform such as through SAP and Microsoft Teams integrations should be a priority for enterprises trying to achieve greater agility and flexibility in their operations.
What are SAP and Microsoft Teams?
SAP and Microsoft Teams both fall under the umbrella of business software applications, where SAP is an Enterprise Resource Planning (ERP) solution, while Microsoft Teams is a business communication platform. SAP ERP platforms such as SAP ECC and SAP S/4 HANA are enterprise-grade ERP solutions and are primarily used for the management of daily operations and core capabilities for large-scale enterprises.
Microsoft Teams is a collaboration and communication application developed by Microsoft as a part of the Microsoft 365 line of products. The application combines real-time chat, audio and video conference calls, file sharing, and integration to provide a comprehensive real-time team collaboration platform.
Through SAP and Microsoft Teams integration, we can gain real-time notifications for faster coordination and monitoring of business processes. In the following section, we will discuss why real-time notifications are essential for streamlined business workflow.
If you have multiple systems running in your business and want to seamlessly connect all of them with your SAP application under one single platform to automate the business processes, employ the APPSeCONNECT Integration Platform and achieve a noticeable improvement in your business metrics.


Importance of Real-Time Notifications for Efficient Business Workflow
Companies from different verticals of the industry require real-time notifications for various purposes to keep track of essential processes and reminders. Significant changes or updates to any critical data can be immediately recognized and then notified to all the relevant team members or departments. Some of the advantages such a system provides include:
1. Customer Inquiry and Grievances: Customers today expect instantaneous communication from their vendors in case of inquiries and grievances. With real-time notifications of customer inquiries to the customer support team, any incoming customer requirements can be rapidly addressed and resolved. A faster response time improves customer satisfaction and increases customer retention.
2. Manufacturing Pipelines: Manufacturers require accurate notification for timely delivery and pickup schedules of materials to ensure a stable flow of production and minimize inventory overhead. Real-time notifications also allow manufacturers to precisely monitor, detect and rectify any issues that could otherwise slow down or halt production entirely.
3. Material Delivery: Freight and logistics often require live real-time notification to keep track of every checkpoint the delivery goes through and ensure the order is on time. With the rise of the Internet of Things, real-time notifications also help trigger a range of processes and actions within the supply chain such as any damage to the goods or alarms for temperature readings where perishable items can get damaged.
4. Inventory Management: Real-time notifications for inventory management are essential to keep accurate track of stock movements from suppliers to warehouses and physical stores, or from distribution centers to the end customers.
5. Financial Backlogs: Keeping track of financial discrepancies or any outstanding payments is needed to keep financial accounts in balance and collect payment dues. With real-time notification organizations can get updates at the right time on which payments are still outstanding and when to collect dues.
SAP and Microsoft Teams integration through APPSeCONNECT Bot
With Microsoft Teams being one of the most used business communication solutions in the industry, having an organization's ERP solution integrated with it brings ready access to actionable business analytics to all relevant team members within a company. On the other hand, SAP ERP applications are some of the most widely adopted ERP solutions for enterprises across the industry. Having an integration between the applications can thus provide greater flexibility and insights into organizational operations.
Through APPSeCONNECT's bot, users can easily create SAP ERP integrations with Microsoft Teams. Through the bot, real-time notifications can be pushed to Microsoft Teams for updates regarding daily sales reports, Revenue, Customer information, and other information along with other benefits from SAP.
Benefits of the APPSeCONNECT Bot for Microsoft Teams and SAP
The bot can be configured to provide team groups or specific users in Microsoft Teams action-based notifications, either as adaptive cards or plain text.
The feature to directly execute an integration from the ProcessFlow to ensure the defined workflow performs correctly.
Help functionality to allow users to gain insights about the configured commands within APPSeCONNECT.
In the following section, we will look into a practical use case where such an integration through the APPSeCONNECT Bot can be beneficial.
Use Cases for SAP and Microsoft Teams Integration – Blocked Orders in SAP
During the time of order placement by a customer, the vendor may promise same-day order fulfillment. However, after the placement of the order, the delivery may get blocked due to multiple factors such as declined credit card checks, unavailability of materials, etc. To keep track of such scenarios, a dedicated team of Customer Service representatives needs to be in place to continuously monitor within the ERP system every transaction taking place and manage any blocked orders that may have occurred.
Through the SAP and Microsoft Teams integration, any blocked orders flagged within the SAP ERP system can be directed to provide real-time notifications through Microsoft Teams to relevant teams to allow for easier monitoring and collaboration along with the quicker resolution of such blocked orders. The implementation operates by sending a notification to the assigned team chat with the corresponding Blocked Sales Order number, Order Value, and the Blocked Order Reason.
In the following demo video, you can get a complete breakdown of how the APPSeCONNECT bot for Microsoft Teams operates and provides real-time notifications.
Demo Video
Conclusion
Integration and automation are becoming fundamental technological pillars for organizations to achieve the operational agility and flexibility needed to manage customer expectations. By integrating every endpoint in their technology infrastructure and expanding their automation ecosystem, enterprises can unlock newer opportunities to achieve more while investing lesser resources. Through the APPSeCONNECT bot for SAP and Microsoft Teams integration, companies can remove the need for a dedicated team for the sole purpose of monitoring critical updates within the ERP and allocate them to more productive operations within the organization. The bot provides real-time notifications whenever any critical updates take place in the SAP ERP directly into Microsoft Teams making monitoring and collaboration easier than ever.
With APPSeCONNECT's robust and intelligent platform, you can effortlessly integrate all your line of business applications with ready out-of-the-box industry-tested integrations under a single platform and achieve greater heights of scalable business growth!
If you have multiple systems running in your business and want to seamlessly connect all of them with your SAP application under one single platform to automate the business processes, employ the APPSeCONNECT Integration Platform and achieve a noticeable improvement in your business metrics.