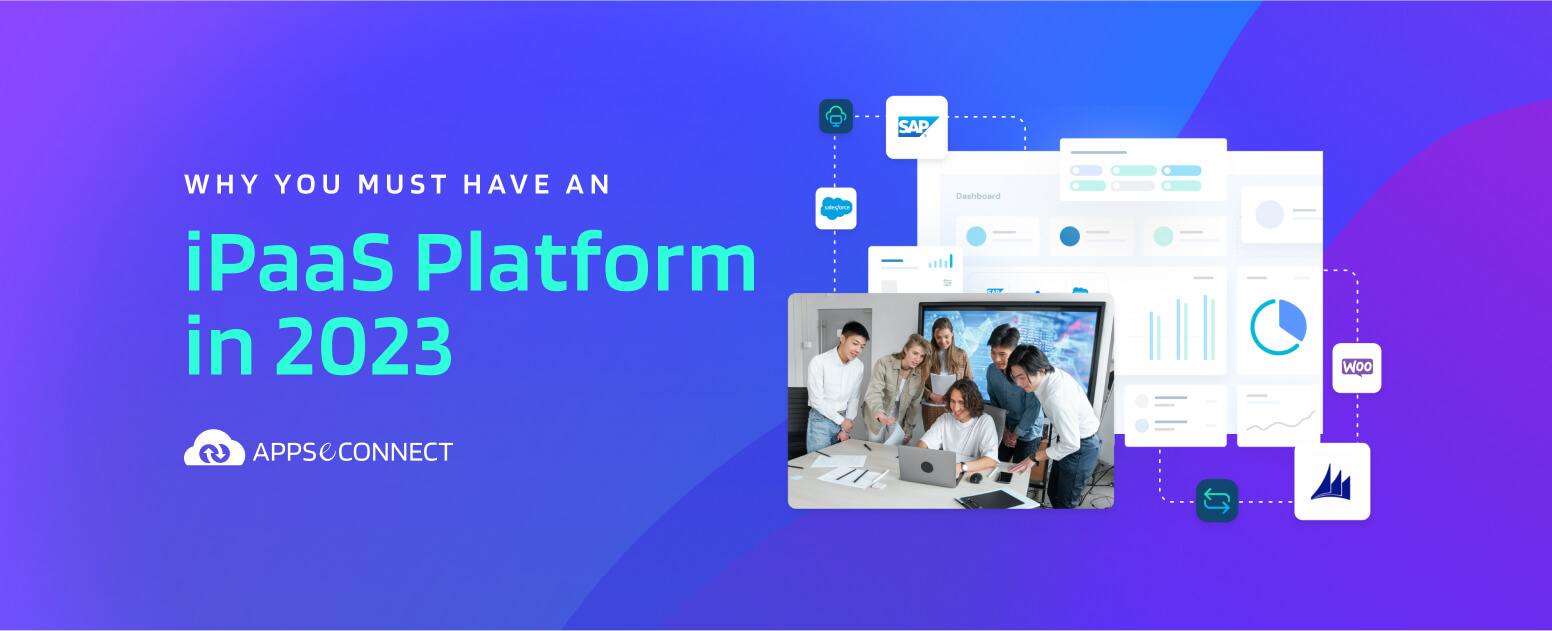 The industry is always under shifting tides of new trends and demands. The ever-changing market necessitates a fast and responsive software infrastructure for organizations to stay on top of their competition. Modern enterprises are deploying a variety of software packages to manage different processes within the organization, the isolated applications limit the business from reaching its fullest potential. A full-stack end-to-end integration is the best way to ensure the complete automation of workflows and improve time-to-market. However, building a seamless integration for the entire network of business applications is a complex process that requires in-depth technical knowledge, time, and resources. That is where having an intelligent and robust iPaaS platform becomes prudent for effortless and effective integration and Business Process Automation.
If you have multiple business applications running in your business and want to seamlessly connect your entire software stack under a single, intelligent, and secure platform to automate your business processes, implement APPSeCONNECT's robust integration connectors and achieve exponential growth in your business.

What is an iPaaS Platform?
An Integration Platform as a Service or an iPaaS Platform is a cloud software suite that allows faster development and deployment of integration flows. With an iPaaS platform, an organization can effortlessly manage the integration of any combination of on-premises and cloud-based applications.
Furthermore, an iPaaS platform also provides tools and technologies that streamline the implementation of integration flows, the development and lifecycle management of integrations, and the management and monitoring of data flows. With the growing push for Hyperautomation across the industry, end-to-end automation of business processes is the need of the hour and an iPaaS platform offers the best solution for achieving it.
The Need for an iPaaS Platform
With the power of an iPaaS platform, data can be synchronized bidirectionally in real time across all relevant applications. Without a doubt, an iPaaS platform offers the best ROI when it comes to implementing an integrated software ecosystem for a business. The growing advantages offered by an iPaaS platform have led to a sharp growth in adoption from 20% to 50% globally, according to Gartner. The advantages offered by an iPaaS solution for businesses include:
Scalable Solution
A frequent buzzword when comes to iPaaS platforms is scalability. An iPaaS Platform offers a scalable solution that grows alongside the business to help meet growing demands. A smaller business just starting out can still benefit from the enterprise-class capabilities provided by the scalability of an iPaaS solution. New applications added to the software ecosystem of the business can also be seamlessly integrated through an iPaaS platform.
Improved Cost Efficiency
An iPaaS prevents you from burning a hole in your pocket. Implementing an iPaaS platform removes the need to recruit expensive developers or allocate in-house resources to develop and deploy integrations. The solution is available as a subscription-based cloud solution, which removes the need and cost for any external developer or added software or hardware for integrating the applications.
Low-Code Implementation
IPaaS platforms being low code in nature allows intuitive drag-and-drop functionalities for developing integrations. A low code Visual Integration Designer, such as APPSeCONNECT's ProcessFlow, offers users of all levels to visually map out integration and employ prebuilt connectors. It allows developers to solve any sort of integration complexities across on-premises and cloud applications without the need for in-depth technical knowledge.
Reduces Manual Tasks
Through bidirectional data sync with integration, an iPaaS platform removes the need for manually transferring data between the different line-of-business applications. Reducing time spent on manual tasks helps improve data consistency, eliminates redundancies, and allows real-time access to data across the organization.
Enables Data-Driven Decision-Making
Ready access to all business-critical data provides decision-makers with a complete bird's eye view of all aspects of the business. With an iPaaS platform, an all-in-one dashboard for business-wide analytics and reports can be generated to get a clear overview of performance and identify critical business trends. Streamlining analytics from ERP, CRM, POS, and other applications allows real-time data tracking of operations and enables data-driven decisions that are as precise as possible.
Centralized Common Database
An iPaaS platform helps consolidate data from different business applications under a single platform. By synchronizing all critical data from important applications, enterprises can enrich the data on every aspect of the record and create the most comprehensive and efficient directory for quick reference.
Unified Internal Communication
One of the major reasons to implement an iPaaS solution is to eliminate data silos. Isolated databases are the biggest hurdle to seamless collaboration between the different departments of an organization. With an iPaaS platform enabling end-to-end bidirectional data sync, every team gains a clearer view of how the company is performing across all different departments.
Increased Security and Compliance
With the growing risks of cyberattacks, a common concern of every business today is the breach of confidential data. A digital environment with robust security protocols is the need of the hour for effectively preventing data breaches. An iPaaS comes packed with built-in powerful security features, which gives more control over the data. This means a clearer view of the data the organization holds in every app and increases the scope for keeping it clean, secure, and compliant with regulations.
Superior Customer Experience
Modern customers seek consistency in the quality of experience they receive across the different departments within a company when communicating with them. Delivering consistent quality experience across an organization requires ready access to updated customer data across all relevant departments. With an iPaaS Platform synchronizing all customer data throughout every department, the customer receives a more comprehensive, consistent, and personalized service. These personalized services make the customer feel more valued and help the business retain them in the long run.
Conclusion
Business Process Automation and Integration are quickly becoming fundamental technological pillars for modern enterprises to streamline their business processes and be more effective. Hyperautomation, Data Fabric, and Cybersecurity Mesh are ever-growing trends shaping the digital landscape of the industry and integration is key to it. Thus, for an efficient business with effortless scalability, without the complexities that come with upscaling a business, having a robust iPaaS is a must-have in the years to come.
If you have multiple business applications running in your business and want to seamlessly connect your entire software stack under a single, intelligent, and secure platform to automate your business processes, implement APPSeCONNECT's robust integration connectors and achieve exponential growth in your business.