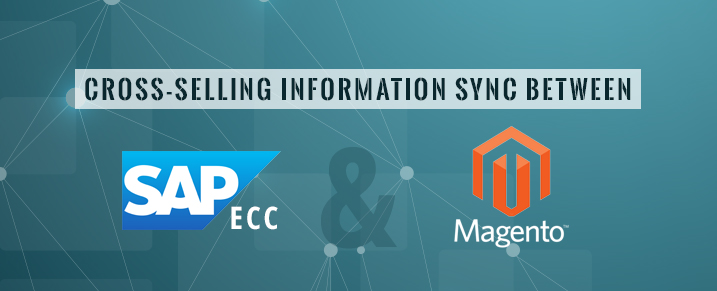 Have you heard the phrase "Do you want fries with that?" while ordering in fast food joints? This is a very commonly used pervasive example of cross-sell in our daily life. Cross-Sell is an age old practice used widely by brick & mortar businesses. Recently this marketing technique has been profitably used in online commerce and thus gained massive popularity. The concept of cross-selling itself is a very valuable marketing strategy used by companies while selling online to give more visibility of their products as well as the associated accessories.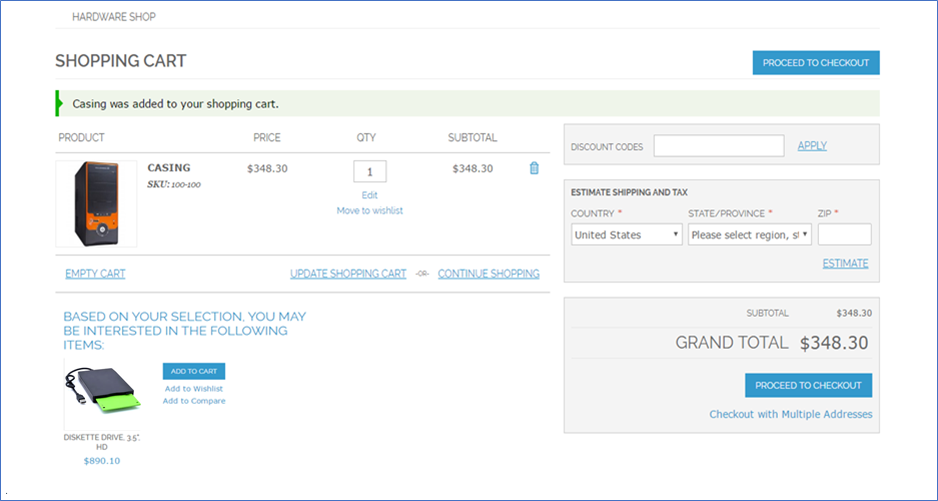 The image shows the shopping cart view of the product Casing and with Diskette Drive as the Cross-selling product.
According to Forrester research analyst Suchitra Mulpuru, product recommendations are responsible for an average of 10-30% of E-commerce site revenues. Way back in 2006 Amazon reported that 35% of its revenues were a direct result of its cross sales and up-selling efforts.
Large retailers have ERP back-end such as SAP to manage their products. Integrating the web-shop with your back-end SAP/ERP is an intricate process. Cross selling helps the retailers in increasing order value, getting more leads as well as increasing average customer lifespan. In this article with the help of a video we will show how cross-linked products are synced from SAP to Magento.
Video – SAP Cross-sell information sync with Magento
The embedded video demonstrates the integration process of Cross selling/linked products. Please note that company information is not there in Magento by default. We have used the B2B plug-in developed by us.
This is done in the following steps –
Step 1 – Assigning Category to company & contact persons

To start with, in this video you will see that a category and a few sub-categories will be assigned to a company from the back-end and only these categories can be viewed by the respective contact person in the front-end.
Step 2 – Defining Cross Sell rules in SAP via condition technique

Next, you will see how a cross-selling information is maintained in SAP All-In-One. This is a standard SAP feature. You will see that the product R-1000 (Diskette Drive) will be assigned to the product 100-100 (Casing).
Step 3 – Running cross sell touch-point using the APPSeCONNECT agent

Using our integration agent APPSeCONNECT, you will see a Touch-Point that would sync the inventory of the products in Magento and the cross-sell information and reflect in Magento. In this demonstration it is synced manually, but it can also be auto-synced just like any other touch-point.
Benefits & further information SAP and Magento integration
Amongst other integration touch points cross selling info btw the platform play that important role, it has a direct impact on the top and the bottom line of the web-store. The decision makers can define the rules in SAP and can have a complete control on the Cross-sell revenue.
APPSeCONNECT is a pre-packaged ready to use connector which can help you integrate a webshop over SAP back-end. It enables the entire end-to-end cycle from listing of products till their attributes and inventory to capture of payment. If you're looking at integrating SAP with Magento you can browse through the following video series to get an idea of the capabilities of the platform.