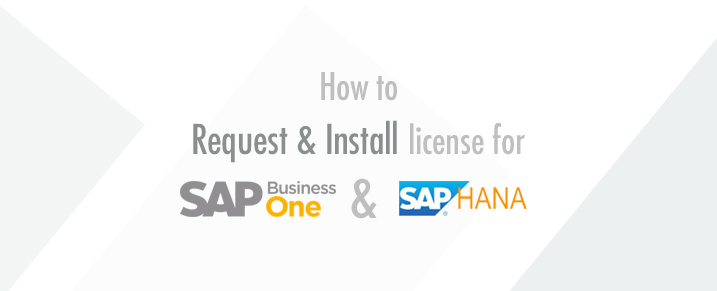 SAP Business One as an ERP system is getting more popularity with HANA as it's core database. HANA will possibly be the native database for SAP Business One in near future just because it is a SAP's own database. In this blog we will show you the steps of requesting and installing license for SAP Business One on HANA.
After installing SAP HANA and SAP Business One version for SAP HANA (this is a different software than SAP Business One for SQL Server Database), you should request and install the license for SAP Hana and B1H.
License Type
Two license types are required.
1. SAP HANA License
This is the license for SAP HANA Engine. This allows you to use SAP HANA Database Engine and its components. Please remember that without a valid license key, you can only use SAP HANA for a 90 Day Evaluation Period.
2. B1H User License
This is the license which end users need in order to access SAP Business One version for SAP HANA like Professional User or Limited Financial/CRM users.
Please refer to the License Administration and guide in the B1H installation or Patch upgrade CD for details.
<<B1H_Install/Upgrade_CD/Documents/System Setup/License Administration Guide.pdf>>


Here are the steps you need to follow:
Step 1:
Search the hardware key for your B1H server from License Manager Center in SLD. https://<Your_HANA_Server>:40000/LicenseControlCenter/
Step 2:
Request the license from https://service.sap.com/smb/sbo/licensekeys with the following selection
System Id: B01
Database Type: SAP HANA.
OS: Linux
If you do not have a valid license key of B1H installed, you can only use B1H for about 30 days, and the below analytics functions will be not accessible.
Enterprise Search
Role-based Cockpit, KPI, Pervasive Dashboard
Interactive Analytics
Advanced ATP
Cash Flow Forecast. etc.
Step 3:
Install the license key with License Manager Center in SLD: https://<Your_HANA_Server>:40000/LicenseControlCenter/



You may also like:
Compatibility of SAP HANA revisions and SUSE OS with SAP B1
SAP Business One Sales App for Android and iOS
Connect SAP B1 with apps using Service Layer (HANA)