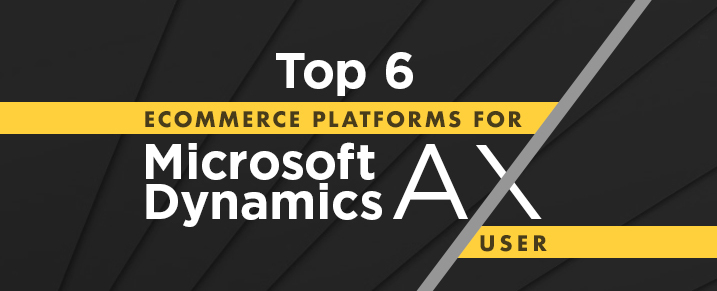 Microsoft Dynamics AX is one of the widely used Microsoft's Enterprise Resource Planning Software Products. It is part of the Microsoft Dynamics family. It is that next-generation ERP for the Enterprise level business tycoons.
In a market as competitive as the e-commerce platform market, it is very hard to find out which shopping cart software best meets your needs – this gets even trickier for users of Microsoft Dynamics AX as it comes with lots of functionalities.
Year-by-year, the advancement of e-commerce technology and the rising competition among online stores have raised end-user expectations. Today, it's not only about cost, easy setup, easy customization, much more user-friendly and more automotive. Factors such as mobile-friendliness, social media integration, good user experience, search engine optimization, modules for content marketing and customer support have also become a fundamental need of modern-day online stores.
Another key is the ease by which they can integrate their e-commerce platforms with their AX environment. Here are the Top 6 leading e-commerce platforms that will sync easily with Microsoft Dynamics AX Environment and help you in making important business decisions:
1. Magento:

Magento is the most widely used eCommerce platform in the world, with a market share of 26%. It is a product of eBay and provides integration with Dynamics AX, along with extensive functionality for web store design and development that far exceeds the functionality offered by the other ecommerce platforms. Magento provides a basic theme to help you set up your eCommerce website. Magento offers a very high level of security, is fully customizable and scalable. Additional features can also be added through the expansive library of Magento extensions.
Here are the key features which are supported by Magento which will make you choose as the other hand of your Business along with AX.
i. Open-Source:
Magento is a downloadable open source platform that is available for free. As such it gives you the ability to modify the code according to your needs and add or edit features as needed. It also provides a vast library of third-party plugins and add-ons that greatly enhance its functionality.
ii. Easier Site Management:
Magento also gives you the ability to manage your web store data from a single point of connectivity. A single database can power multiple frontend Magento stores, all of which can be managed from one admin panel, helping you save both time and effort.
iii. Scalable Platform:
Magento can scale to adjust to the size of your business as your requirements change.
iv. User-friendly:
Magento offers a user-friendly interface with functions like customizable layouts,  zoom-in and zoom-out capabilities, product reviews and more. This makes it much easier to browse and search for items on your web store.
v. Search Engine Optimization:
Magento also provides built-in SEO optimization capabilities and extensive features for upselling and cross-selling that encourage users to buy more.
vi. Mobile Commerce:
Magento provides a great shopping experience on mobile devices as well. It includes multiple features like gesture-based controls, image scaling and support for video capabilities as well as drag and drop functionality for buyers.
vii. Integration with Dynamics AX:
Our Magento-Dynamics AX Connector provides out of the box integration between Magento and Dynamics AX, providing syncing of data between the 2 systems, while providing you the ability to manage your business from a single platform, by providing centralized product catalog management, order fulfillment, customer service, etc.
2. Shopify:

Being a hosted solution – Shopify has it all in terms of an easy setup, with a handy dashboard area for quickly adding products, customizing the look of your site and more. The best part is that Shopify has evolved over the years with the ever-changing needs of most businesses. Other than easy setup, the Page Load Speed in Shopify and Trusted Payment Gateways are standout features for choosing Shopify as your preferred e-commerce platform in 2018. Check out these Mistakes to Avoid on your Shopify Website!
Arguably, Shopify has the best collection of professional themes to choose from. It is SEO friendly and does all the right things to ensure that your website is well optimized.
Easily sync all marketing, finance & EPOS data
Synchronize Shopify and Microsoft Dynamics AX Product Data e.g. Available Stock,  Product Descriptions, Supplier Catalog, Images, Prices etc.
Integration ensures that your business data and sales figures match your warehouse and finance systems
By integrating Shopify with your MS Dynamics ERP, you will eradicate repetitive employee data entry, remove the risk of costly errors and significantly decrease order fulfillment times.
Integrating both these platforms allow businesses to save a large amount of valuable time as the entire process will be automated. The integration connectors automate the flow of orders and allow real-time synchronization of customer data between the two platforms. Shopify boasts great customer support and knowledge base for your queries. It is a platform that has evolved over the years and will further grow in the upcoming years.

3. WooCommerce:

Offered as a free WordPress plugin, WooCommerce allows you to leverage the advantages of WordPress while building your e-commerce websites. Though it's offered as a free plugin, the costs of integrating WooCommerce as a functional shopping cart can be considerable. If your website already runs on WordPress then you can easily choose WooCommerce!
As a platform WooCommerce offers a lot; it is fully customizable, has a decent shopping cart and secure payment gateway. Additionally, there is a range of themes to choose from and an option to build your own custom theme as well. The beauty of any WordPress theme is the ease by which the admin panel can be understood and managed. Here are some of the ways to increase traffic in your WooCommerce Store!
Further, a big advantage of the WooCommerce platform is that there are no limits on the number of product categories that can be added, a built-in WordPress blog and easy access to WordPress library of plugins and extensions. Some key advantages of integrating WooCommerce with Microsoft Dynamics AX are highlighted below:
Sync orders, customers & billing Data
Automatically sync fulfillments & Shipping info
Unified stock levels, products and product categories.
WooCommerce is very reliable but however, it's well suited to smaller online stores as WooCommerce websites don't perform well when their database grows in size.
4. BigCommerce:

Similar to Shopify, Bigcommerce has an easy to use dashboard and clearest directions for getting your site published in the least amount of time. Bigcommerce offers a host of build in features such as; a fully functional website, unlimited bandwidth and storage and an option to add as many products as you like. Further, this e-commerce platform offers essential features such as gift cards, reviews & ratings and integration with marketing tools such as MailChimp, Facebook, eBay, PayPal and Google. BigCommerce has also made Facebook Ad simple and more Effective!
A common problem faced by many e-commerce businesses is data migration between Web Store and Accounting Page. Through Bigcommerce you can eliminate manual data entry and automatically integrate your Accounting package with your Bigcommerce web store.
Additionally, Bigcommerce is extremely SEO friendly, comes with top-notch security parameters and has a great customer support. The platform has great tutorial resources and community forums, they're easy to follow and provide screenshots to help you set up easily. Integration between Dynamics AX and Bigcommerce gives you the following control:
Automatic insertion of Bigcommerce orders into Microsoft Dynamics AX
Automatically updating Bigcommerce with offline sales
Automatic transfer of inventory levels and/or product images and descriptions from Microsoft Dynamics AX to Bigcommerce
Synchronization of customer information between Bigcommerce and Dynamics AX
Automatic rules based placement of an order with a preferred courier service(s) or internal distribution team
Bigcommerce boasts its own App store to help you get more advanced tools to "extend" the functionality of your ecommerce shop. Bigcommerce can be a costly platform but it does offer more features compared to its competitors. So, it could be a good bet if you're looking to spend a little more money for extra features and more customization.

5. OpenCart:

OpenCart has been around for quite a while, attracting the interest of entrepreneurs all over the world. The open-source platform has evolved to what we enjoy today. It is simple, responsive and has countless other cool perks. A free starting point for bootstrappers and new businesses to make their breakthrough in the wide, exciting, and curious E-Commerce world.
A lot of entrepreneurs and developers help each other out, share experience and advice, and develop an abundance of useful extensions and custom themes.
Here are some additional functionalities of OpenCart.
i. Additional Functionality:
Image Zoom
Multi-Language
Multiple Stores
Data Import
Multiple Payment Gateways
Additional Modules or Bespoke Functionality
ii. SEO – Search Engine Optimisation:
It is important to SEO optimise your site and products for Google and other search engines. OpenCart gives you the tools to do this when you create your categories and products with Meta Titles, Meta Descriptions, Meta Keywords, Alt Tags, SEO URL's, canonical's and sitemaps.
There are also many additional modules available to help you with making sure you follow the rules and to look at all the additional areas that Google now wants to see.
iii. Marketing:
There are features available in OpenCart that help you to market your products with reports on viewed products, reviews, bestsellers, featured products, coupon codes and more. There are also many modules available in the OpenCart Marketplace to further enhance these including Newsletter Integration, Abandoned Cart Modules, Discount on Next Purchase and many more.
6. 3dcart:


3DCart has always been one of the most efficient and affordable eCommerce platforms. It has always surprised us with it's latest versions. 3DCart is a hosted SaaS solution so it includes all the common benefits of these platforms:
Reliable servers (99% uptime guarantee and daily data back-ups).
Easy-to-use admin panel.
Template system and user-friendly design editor.
So, if you do not have a lot of programming experience but want to have a fancy design for your web store or you don't want to waste a lot of time searching for an appropriate hosted platform, then 3dcart is a great option to start with.
Apart from standard advantages and offerings, 3dcart provides another set of unique features that prove to bring improvements in sales and increase in profit. The core benefits of 3DCart include the following:
3dcart stores have powerful product management that will help you run your shop effectively. Add and manage any type of items (physical or virtual). Product review and comparisons, wish lists, multiple pricing levels, up-selling, image zoom and many other features will help you to make your store profitable.
One of the best marketing and SEO set of features in the industry: discount and coupon codes system, search engine friendly URLs. Some of the advanced options are the opportunity to sell via Facebook/mobile devices and XML sitemap generator. In addition, you can easily set up an affiliate program and/or blog to make a buzz about your store and products.
Top level security (PCI compliance) and full 24/7/365 support. You can be sure that the web-store won't be hacked and you will always get an expert help in case of an issue.
Conclusion:
It is clear that each e-commerce platform has unique offerings, and each of them attracts to different kind of business needs and goals. As an e-commerce store owner and a Microsoft Dynamics AX user, you need to clearly know your specific needs and choose one of the above platforms for your online store. The key question is outlining your vision for the kind of online story you need today and envisions how these needs will evolve over the years as your business grows.

You may also like:
Webinar: Benefits of connecting eCommerce with Dynamics CRM/365
Benefits of ERP and CRM Integration
APPSeCONNECT is proud to be "Certified For Microsoft Dynamics"