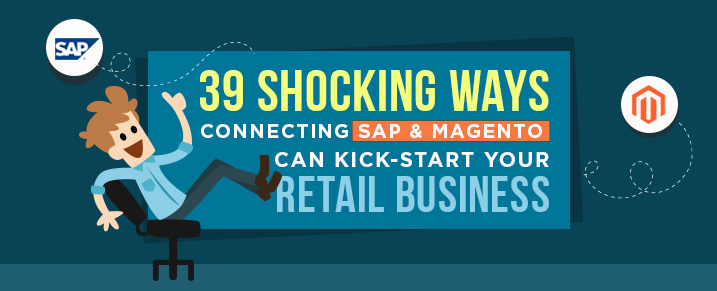 If you are tired of SAP and Magento replicating data or making duplicate entries, what you need is a connector to synchronize data between the two and stay in sync and in control all the time. A connector helps you have the cake, and eat it as well: you get to continue leveraging your SAP, and also use Magento to sell your products on attractive ecommerce websites. Now, you don't have to worry about duplicate entries, mixed data &  other issues when using SAP & Magento. Instead, you will find the impetus to achieve retail success.
Embrace Automation
Import catalog into Magento
Importing product catalogs into Magento as and when they are updated in the backend, can be tedious. While catalogs are being entered into or updated on Magento, there are chances of missed sales and communication gaps. Solve this problem by using a connector, which will automatically import your catalogs into Magento.
Import promotional pricing into Magento
Promotional pricing depends on decisions taken by the marketing team, the finance team and other entities that maybe involved. As this pricing is not only time-sensitive but also depends on departmental communication, there are chances of backend decisions not reflecting immediately on Magento. As soon as SAP recognizes promotional pricing, it is reflected on Magento. Also Check out the Magento 2.0 Advanced Pricing!
Generate financial reports on SAP
Magento provides great financial reports on sales. However, SAP provides deeper insights related to balance sheets, cash flow, trailing stop, P/L reports, etc. By connecting these two behemoths, you can gain deeper insight with respect to financial reports.
Integrate invoices
If you have found yourself wasting time on integrating invoices, payments and other information related to taxes, connecting SAP with Magento helps you streamline this process. You can synchronize shipping status, payment and invoices immediately.
Integrate orders
While order fulfillment processes vary widely between companies, SAP is used to automate the order fulfillment process. Connecting SAP with Magento helps to take this a step further: you can integrate all orders on your Magento website with SAP so that order fulfillment happens automatically, with no manual effort.
Rev-up Your Operations
Don't worry about inventory mismanagement
Now, don't worry about inventory management. Connecting SAP with Magento helps you to avoid feeding inventory imports using Excel files. You will also no longer end up with Magento displaying products that don't exist in the warehouse. Many businesses experience loss of reputation when orders are placed, and money is refunded because of non-availability of products, thus disappointing or irritating the customer.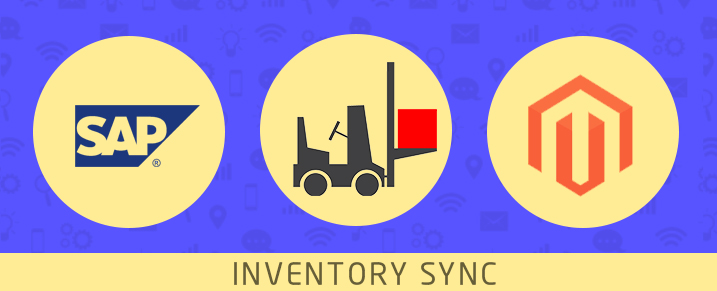 Short fulfillment cycle
While Magento and SAP do a great job of automating online purchases and order fulfillment respectively, there is still a time gap that exists while order requests are communicated from Magento interface to SAP. Integration can help you to fulfill your orders quickly, leaving your customer happy.
Enhance order fulfillment
Automating order fulfillment process comes with its own benefits. It helps you to grow your business faster, avoid human intervention, and seamlessly carry out the entire order fulfillment process, from the time of placement of order to it being delivered.
Configure products easily
SAP is a great tool to manage product information such as attributes, images, description, etc. All this needs to be updated on Magento too, so that customers have the latest information available to them on their screens. If you connect your SAP with Magento, you will be able to manage complex product information on a single interface.
Order aging reports
Whether it is an order that was cancelled, or an order that was partially delivered, order ageing can cause cash flow problems. Connect your SAP with Magento to bring order aging reports to track outstanding balances.

Enhance productivity across departments
Integration helps you to streamline your multiple business processes and move towards near-complete automation. As sales order made online will reflect in SAP in real time, back office can instantly begin to work on order fulfillment. This enhanced communication between various back office departments and your online store will help you enhance productivity overall.
Reduce human errors
Order placements, customer details, payment-related information, etc will be instantly synchronized with SAP. Similarly, inventory and item information gets reflected on Magento automatically, without your employees having to reenter data. This reduces human errors.
Reduce inventory cost
Web sales information will be synchronized automatically on SAP, so that you can update inventory based on these requests. You can avoid making unplanned purchases and diminish inventory cost.
Communicate with third party logistics providers better
If you always had difficulties communicating with third-party logistics providers, you no longer have to worry. Magento orders are automatically communicated to third party logistics providers (3PL) through SAP, so that your supply chain isn't affected.
Control Your Web Store Better
Sync stocks into web inventory in real time
While SAP does a great job in updating inventory-related information, you will still have to update this information on Magento manually, which might mean uploading certain files. You can skirt around this step by using a connector, so that all stocks are synchronized into web inventory in real time.
Sync shipment and delivery status from SAP to Magento
While your back office may do a great job at updating information on SAP related to shipment and delivery status, what is most important is that the customer knows where his package is. Customers today are used to checking order and delivery status almost obsessively. Ensure that this information is reflected in real time on Magento, as and when that information is available on your SAP.
Sync customer details on SAP from Magento
Customers enter their contact information and addresses on Magento, which needs to be entered into SAP by back office. By synchronizing this data automatically to SAP with the help of a connector, customer self-service portals can be created, adding to your customer's satisfaction.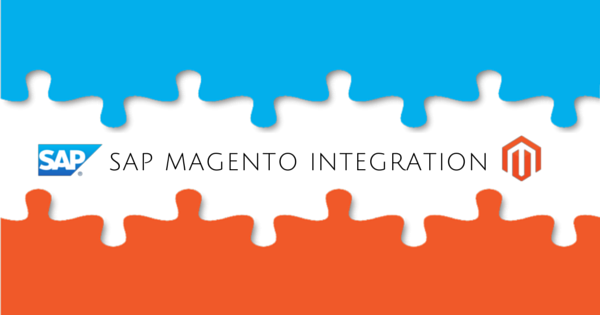 Sync multiple web-shops
Magento allows you to set up multiple web shops depending on your requirements. However, importing all the products, images and process from your SAP to Magento on these various web shops can prove to be cumbersome. Integrating the two will help you provide multiple web shops with minimal effort.
Keep your data up-to-date always
A company needs to maintain a lot of data, which keeps changing constantly, on its systems. All this data comes from various departments, from both back-end and front-end. Centralize all your information by using a connector, which helps you to integrate data related finance, customers, shipping, human resources, etc in real time.
Get a Grip on Data
No inconsistent data
Inconsistent data is one of the reasons why product management and marketing do not achieve expected results. Integrating SAP with Magento brings consistency to data by avoiding human and machine errors, and by bringing this data in real-time.
Eliminate manual data entry
Manual data entry is still a thing in many companies. Employees unnecessarily spend precious time in entering data from SAP to Magento, and back. This can be avoided by using an engine that integrates both SAP and Magento.
Rich data
SAP is a powerful tool with terrific data analytics features built into it. Connectors can help SAP to use data from Magento to provide richer and deeper analysis, which can help you to innovate.
Customer Is Still the King
Enhance customer experience
Every customer likes his order delivered in the shortest time possible. Every customer also likes it better when placing that order was a breeze. Make this happen by keeping your Magento website always updated in real time, and by hastening order fulfillments by automatically synchronizing data from Magento to SAP. Check out 9 Customer Experience Trends to Know About in 2017
Bring self service to customers
If you want to save time and money, all you need to do is offer your customers complete self-service. Allow them to place orders, raise quotations, track their deliveries, etc. All this can be automated when you connect your ecommerce store with SAP.
Accept payment everywhere
While many people pay online, you may also have to accept cash and card payments while making deliveries. Magento can accept payment online, and SAP can be configured to reflect payment details entered on payment devices by delivery agents. All this information will be reflected in real time on the website, if you connect SAP with Magento.
Provide a holistic experience for your customers
SAP and Magento integration completes the gestalt of order fulfillment. This happens in the shortest duration possible, and the customer is able to manage many aspects of order fulfillment, giving him a sense of control. This enhances customer satisfaction and provides a holistic experience.
Bring omnichannel experience
While Magento ensures all goes well online, SAP ensures all goes well not only in the back end but also at your brick and mortar stores. However, combining both of them helps you to bring an omnichannel experience to your customers. Synchronized real-time shopping experience is available on-premise, on smartphones, on desktops and wherever else you might think is appropriate.

Revitalize Your Business
Automate at a deeper level
While SAP and Magento already help companies to make the move toward automation, implementing a connecting engine takes this automation to a deeper level. You are literally automating tools that help you to automate your business.
Helps you scale
With the level of automation that connecting SAP and Magento enables, you will have a lot of bandwidth and space to grow your business. Connectors directly help you to scale, and that is one of the biggest hurdles that businesses face today.
Save time and money
Reduced man-hours and synchronization of data helps to save a lot of time and money. You no longer have to engage in redundant manual tasks nor will you have to hire ad-hoc employees or make unnecessary purchases for your inventory. Everything can be planned and managed. This saved time and money can be invested toward innovation.
Gain competitive edge
All this saved time and money helps you to focus on your core business practices. You can focus on developing a competitive edge over others in your field, by concentrating on R&D and innovation. The insights and reports you gain after connecting SAP and Magento tend to be richer, helping you further in gaining an edge.
Track ROI
The success of any software implementation is made by tracking numbers, and calculating ROI. Do not just calculate your ROI based on data from Magento and SAP. Instead, combine this data together to gain a holistic view of where the numbers are leading you.
Analyze data and engage in R&D
Data reports and analytics will not only help you gain competitive edge, but will help you to innovate. Use the reports to develop new products or engage in research.
Give a Boost to Sales and Marketing
Helps promote sales
Enhancing sales takes a new meaning, thanks to a centralized order management. You can control all sales-related activities on a single platform. By hastening order fulfillments, you will be able to increase the number of sales in a specific period of time.
Focus on branding
By bringing an omni channel experiencing to your customers, you can keep your branding consistent. Whether your customers use your Magento web store or they are shopping at your brick and mortar store, you can keep your branding consistent.
Focus on Marketing
Marketing campaigns often suffer from a lack of deep insight about consumer behavior. Magento provides very valuable information about consumers and how they shop online. Combined with the data that SAP collects, you can arrive at better marketing strategies to reach your target audience.
Focus on Advertising
Data and analytics reports can be used to develop ad campaigns that are more focused and relevant. Magento-based data is particularly useful for running web ad campaigns, while combining that data with SAP helps you to turbo-charge your advertising strategy.
Engage in both cross-selling and up-selling
Deeper consumer insights help you to develop cross-selling strategies, such as displaying most relevant products and coupons to users, when they are searching for products on your Magento website. The same insights can be used to up-sell as well.
Monitor guest purchase on SAP
A lot of people do not register on websites while making purchases. While they are motivated by many factors to remain guests on websites, you can monitor their purchases on SAP in real time, thanks to bringing all the data from Magento automatically.
Connect SAP B1 and Magento with APPSeCONNECT to improve your business process rapidly !

You may also like:
Credit Management for SAP Magento B2B Integration
7 Things To Consider Before Choosing SAP B1 ERP
When and Why should you upgrade to Magento 2.x?