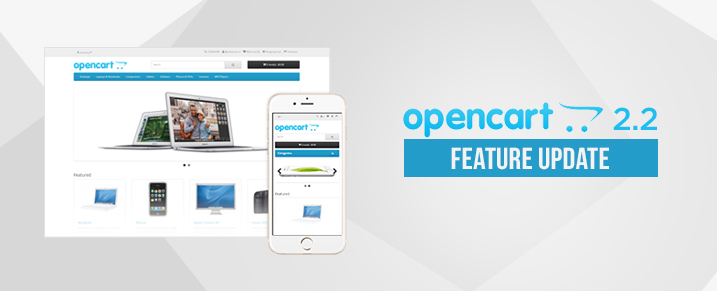 OpenCart is as we know one of the most popular eCommerce Platform available in the market. It has the third largest market share in the eCommerce Spectrum. So it's very important to know what new features emerged in Opencart 2.2. This blog describes the feature updates Opencart 2.2 version.
OpenCart 2.2 has been released in March 2016. As per the standard way of releasing a new version, OpenCart 2.2 comprises of features which are tested through the OpenCart Community members.
OpenCart 2.2 can be downloaded from the web in 2 versions:
Compiled – It is now available as a default download contains all the external libraries needed to use OpenCart.
Non Compiled – This can be downloaded fromClick Here :

Github

. Source code zip and tar.gz are also available for download. If you want to have a Composer Installation, you can download this non compiled version's standard files and can execute composer install.
Features at a glance
Introduction of 3 new payment gateways. During last month these payment gateways get added in OpenCart 2.2. New payment gateways are: LAY-BUY, Cardinity and eWAY.
OpenCart 2.2 supports Composer based libraries
Event System now has many improvements and changes in OpenCart 2.2
Multi-Language Installer is now a part of the Package
To reduce the repetitive codes, changes made in OpenCart 2.2 to Template Rendering
OpenBay Pro with the support for Fulfillment by Amazon is now available in OpenCart 2.2. OpenBay Pro is a very popular plugin through which OpenCart 2.2 can be connected with Amazon (UK, US), eBay and Etsy.
Click Here : A Guide to Major Opencart Updates in 2015