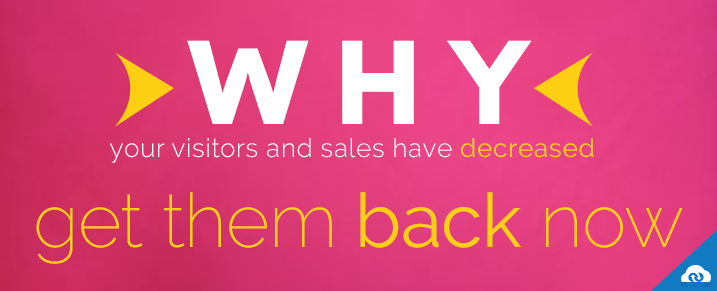 It is really frustrating when you see your efforts are not paying back. I am sure you had big dreams regarding your eStore, so don't let your dreams shatter.
Today, e-commerce businesses are flourishing but not all of them. The current e-commerce market is very competitive, hence planning is very important. Remember that too many factors depend on you and your decisions, for example choosing your             e-commerce platform, ERP, connector, products, payment procedure, shipping, security etc.
Firstly, you need to understand why you are not getting enough visitors or sales. Try to find the loops. Secondly, address the loops immediately as it's already pretty late. Thirdly, review your customer feedback.
Decreasing number of visitors means you are failing to draw relevant traffic. How will you draw traffic? Increase your social media activities, give promotional offers, gift voucher for customers who will refer their friends. Try creating an impact on social media.
You can increase your visitors by implementing e-mail marketing, promotions, social media awareness, etc. but how can you convert it into sales? Sales is the most important thing as it is the revenue factor of your organization. Converting a lead into sales is tough.
Sales depends on a number of things like display of the product, the quality, specifications of the product, description, images, etc. Among them the most important is the checkout process. What will your customer buy if they do not like the product? Make sure you keep the updated products, mention their material and make, size specifications and put clear and visible images.
Many times you will find that your customers exit the store, leaving their cart behind. This is a common problem which many e-commerce merchants face. The reason is simple. Either the checkout process was lengthy or the payment options were not comfortable. Allow guest checkout options and keep the registration procedure optional. As for payment, accept local currencies and give options for payment gateways.
Follow the summarized checklist mentioned below to increase your traffic and sales:
Choose the right marketplace, ERP & connector.
Make sure your website is mobile compatible.
Promote on popular social media sites.
Give discounts, offers and check the price tags.
Allow guest visitors and checkout.
Make the registration simple.
Improve your product display.
Keep multiple payment gateway.
Enhance customer relation management.
Eliminate shipping charges or keep it inclusive in the product.
Review your customer's experience.
Well, try to follow the checklist and see the difference. Best of luck as the holiday season is around the corner.