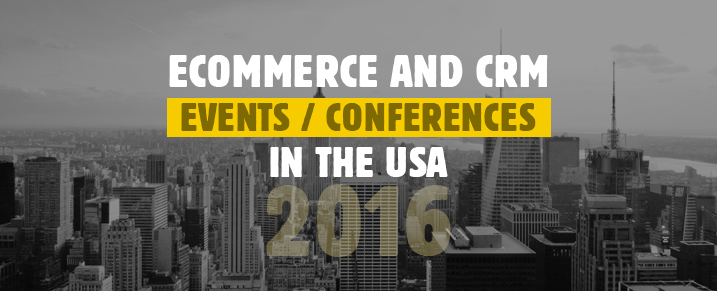 To grow your business, you need to gain perspective and in order to do that, it is very essential to step out and network with the right kind of people. Participating in various conferences / events related to your industry will help you get in touch with people who can help you and give you the right insights. It is not necessary to attend each and every event out there; you need to choose the ones which are best suited for your business and goals.

But searching for the right kind of event in and around your area is tricky. Since travelling needs some planning, we thought it would be helpful for you if we categories the events area-wise. So we have compiled a list of top upcoming eCommerce and CRM events / conferences happening in the United States of America this year (June – Dec 2016).
Here they are:
Internet Retailer Conference & Exhibition
Sugar Con 2016
CRMC 2016
GORILLA SUMMIT
The CRM Summit 2016
SELLERS' CONFERENCE FOR ONLINE ENTREPRENEURS
SAP TechEd Las Vegas
Retail Global
SHOP.ORG- RETAIL'S DIGITAL SUMMIT 2016
ASUG SAP Business One Conference
NAVUG Summit 2016
CRMUG Summit
October 11 – October 14
eCommerceFuel Live
QuickBooks Connect
AWS Re:Invent
This list will help you to find the right events to attend. I hope you get a chance to connect, learn and make the right decisions to grow your business.
You might also like: