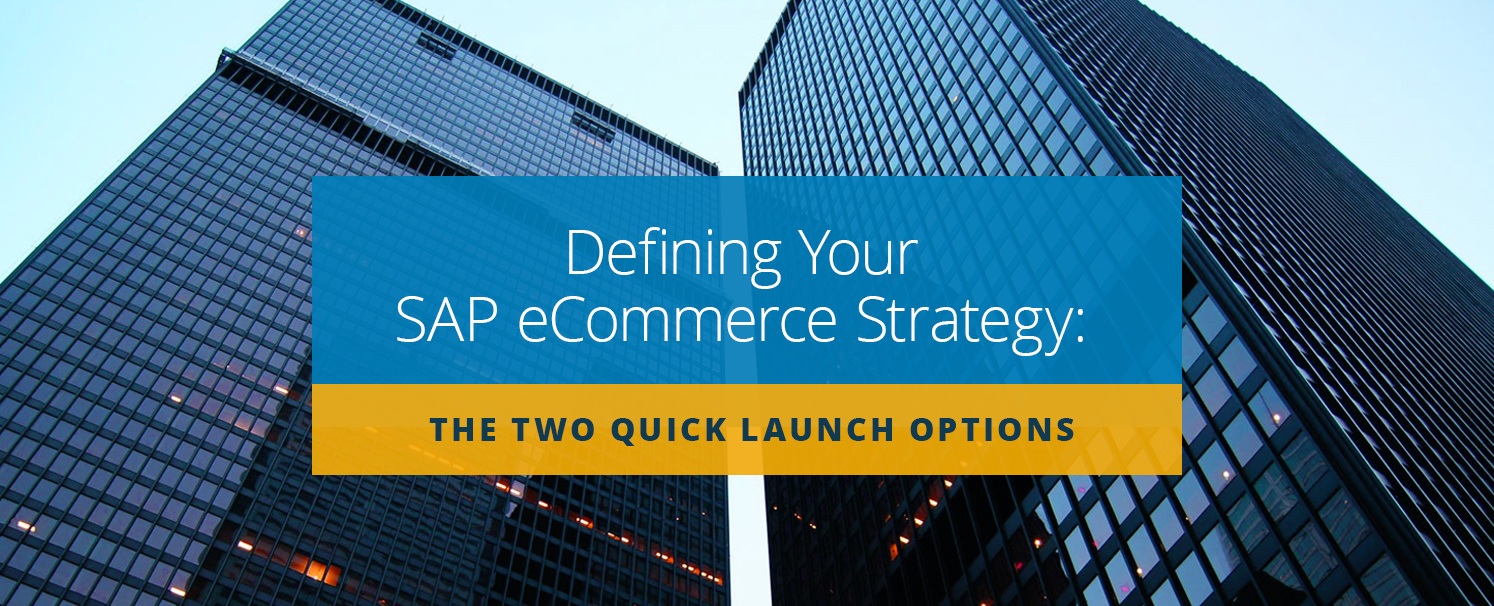 The recent global pandemic has underlined the fact that as far as the business ecosystem is concerned, change is the only constant. Companies need to act fast and constantly adjust their operating strategy. Flexible and quick to deploy IT solutions can help to a great extent. Better connect with B2B and B2C partners over the web is a top business need in the current world and we shall explore the same in this article.
Traditionally businesses running on SAP have relied on offline product catalog, order entries via email or phone and pushing sales via customer representatives. However, it is being realized that this may not be enough. Leaner workforces at the office as well as limited sales-force on the ground means a substantial portion of the business cycle needs to be done over the web.
Quick deployment of web commerce over SAP
So, if you have been a corporate working in the traditional manner and are now evaluating how to enable web commerce in the quickest possible manner, this article is intended for you. To be able to leverage web-commerce optimally, we recommend that you need to do the following self-assessment.
1. Understanding which SAP version – SAP comes in different versions. Each of these has its own integration protocols and capabilities. In case you do not already know what SAP product you are running on, this article may be a good starting point.
2. eCommerce business model – This is a crucial aspect of the solution. The effort involved in launching a B2B store is significantly higher as compared to B2C. Understand what type of business model (B2B / B2C or both) your webstore needs to support can also have a bearing on the final solution.
3. Peripheral integration – Apart from integrating web-commerce, list down what other integrations you might need. Few frequent examples are payment gateways, tax calculation and carrier integration (example UPS / USPS, FedEx).
4. Inhouse web-commerce capabilities – One of the major considerations, you might need to have is whether your IT team has experience in managing any webstore in the past. If the answer is that they have a limited one, there is no need to worry.

Two SAP eCommerce fast deployment options
There are various options when it comes to launching an eCommerce store integrated with SAP. SAP offers SAP Hybris as the standard integration option. However, as per recent study from Forrester, implementing Hybris requires an initial investment of $579,000, 6-8 months of implementation timeframe and setting up a strong technical support team. For this article, we will be discussing other alternatives.
1. SAP Shopify Integration
If your business is straightforward and you want a very rapid launch, Shopify may turn out to be a great platform. For enterprise-grade businesses, the platform offers Shopify Plus. You can read more about this integration out here.
Check out the demonstration video:

One of the advantages of using Shopify is that it is a SaaS-based application and you do not need any expertise in managing the webstore. The pricing is straightforward and Shopify Plus pricing starts from $2,000 per month. Various usual integrations are supported out of the box. You can read more about Shopify plus out here.

2. SAP Magento Integration
Magento is one of the most popular eCommerce platforms across the world. It comes in both opensource and commercial flavors. Integrating SAP with Magento gives you an edge in terms of handling complicated B2B and B2C webstores. Read more about SAP Magento integration.
Check out the demonstration video :

Using B2B Commerce add-on you can manage both B2B and B2C business models. As opposed to Shopify, you can customize Magento to handle complicated real-time business checks like for example the real time pricing between the platforms.
Parameters

Shopify

Magento

Deployment model
On-Demand
On-Premise / On-Demand
Platform Cost

$29 / Month for Basic Shopify
$79 / Month for Shopify
$299 / Month for Advanced Shopify
$2,000 / Month for Shopify Plus

Free – Magento Open Source
$22,000 – Magento Enterprise
$2,000 / Year – Magento enterprise Cloud

Implementation Complexity
Simple
Simple – Moderate
Deployment Timeframe along with integration* (depends on complexity of integration and customizations needed)
1.5 months
3 months
Web commerce administration
Simple
Simple – Moderate
Why APPSeCONNECT for your SAP eCommerce integration
Integrating your webstore with APPSeCONNECT gives you an added advantage that it is pre-packaged and shortens your time to market. Typical web-commerce integration needs are already covered in the base offerings. Further customizations and mapping can be deployed quickly over and above the base solution. Read about the advantages of leveraging APPSeCONNECT out here.
APPSeCONNECT is a smart and robust business application integration platform that seamlessly connects SAP eCommerce with all your business applications to streamline operations and facilitate the free-flow of data across the platforms. By moving into the region of iPaaS, APPSeCONNECT proves to be a best-in-the-class platform that easily connects systems and automates the business process.

Now, you can easily connect all your business applications under one single platform to automate the business process!
You may also like:
Data Integration in the Healthcare Industry: How iPaaS is Revolutionizing the Healthcare Sector
How To Sync Sales Orders between SAP S/4 HANA and Shopify eCommerce
APPSeCONNECT Product Release 2020-21 Q1